Each company, when hiring employees to solve business problems, seeks to obtain a staff united by common goals that can achieve success quickly. To do this, they develop corporate processes, train employees, hire specialists in the field of personnel management and, of course, provide tools for collaboration.
Along with tools for automating work and accounting, systems that make communications more productive are widely used. These include traditional e-mail, tools for video meetings and negotiations, and various systems of teamwork. At the same time, some products belong to corporate administration, while others are completely managed by external, foreign specialists.
The COVID-19 pandemic has forced companies around the world to make changes to the standard workflows of employees, look for ways to effectively work remotely, and maintain communication and unified work of involuntary disparate employees. And Microsoft Teams did a great job with this task.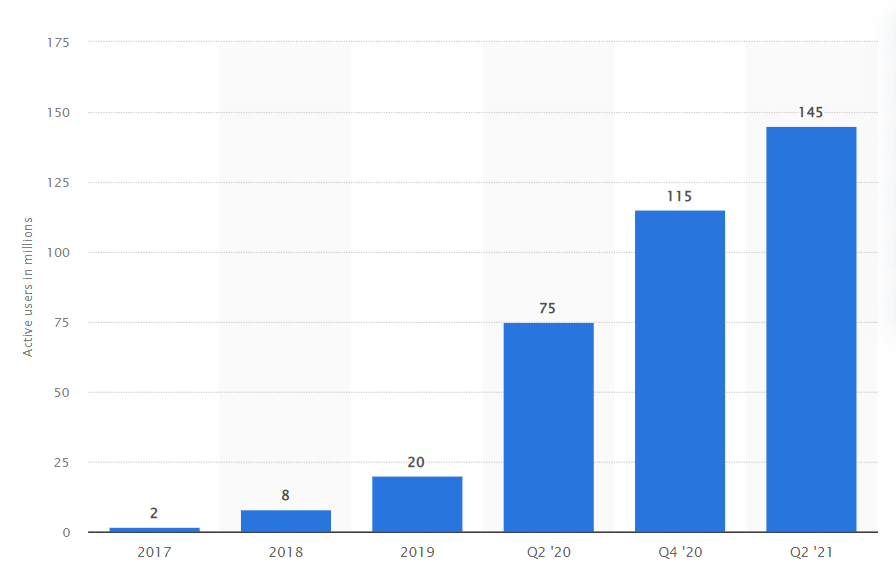 The number of daily active users of Microsoft Teams have almost doubled the past year, increasing from 75 million users in April 2020 to 145 million as of the second quarter of 2021.
Source: Statista
Microsoft Teams is a multi-platform collaboration application managed by your administrators that combines collaboration tools, personal and group chats, dedicated workgroup communication channels, video conferencing, and more. This business solution allows you to work efficiently without being tied to a physical workplace.
Key features
You can create separate communication channels for teams united by a common goal, project or task. Inside the channels, your employees will exchange messages, post announcements, hold discussions, work on shared documents, and participate in video conferences. You create as many such channels as you need to conveniently organize the work of employees on common tasks or individual projects.
In parallel with the general exchange of information, individual and group chats are available to users. This is an analogue of familiar communicators such as Viber, Telegram, WhatsApp. You enable employees to communicate and exchange short messages without overloading corporate mail.
Video conferences and video meetings
Sometimes it is necessary to meet "face to face" to effectively solve the tasks. In the modern world, a convenient alternative to personal meetings has been replaced by virtual meetings. Teams provides the opportunity not only to carry out such events in the video meeting mode, but also to hold mass conferences. Interaction is provided both with company employees and with external users. At the same time, you can demonstrate the screens of your computers and even organize the common work of meeting participants on a single screen. This significantly increases the effectiveness of collaboration.
Sometimes it is easier to exchange a few words with your voice than to write long texts. And you can use the call directly from the chat. During the call, you can turn on the camera and get a personal video meeting.
Another possibility is to make calls to landlines and mobile networks. By using existing connectors to terrestrial communication channels or connecting your local telephony providers, you enable employees to use corporate communications from anywhere in the world where there is Internet!
Collaboration with documents
Often, multiple employees need to work with one document. Teams provide such opportunities. It is enough for you to place the document in the appropriate place, where all the necessary employees have access and each of them can work with the document. At the same time, the system itself will track the history of changes.
We are already used to the fact that our calendar is located inside corporate mail, such as Microsoft Outlook. But a calendar is also needed in the teamwork tool. Wherever you set goals or schedule meetings – in Outlook or Teams – they will be in the calendar of your corporate communicator.
Integration with other apps
In addition to working with Microsoft Office documents, the system has connectors for more than 250 applications. There are Trello, Evernote, Zoom, different calendars and chatbots etc. You add the right application to the channel and then just share the documents of this application and work with them in a familiar interface, without leaving Teams or bookmark the app to use it.
For example, integration with Microsoft Dynamics 365 Sales (Microsoft's CRM system) allows the vendor to share a record of a potential transaction with the sales support team and allows the latter to both view information and make changes to the CRM system's records without leaving their Teams.
Using Power Automate questionnaires, your employees will automatically receive notifications about filling out the form. This is important in order to understand where the employee is, how many hours he can work and whether he needs any help at this time.
At any point in the world where there is the Internet, you can access the environment of your work team. Teams works as an application for PC, Android and iPhone, as well as the web page of your corporate Office 365. Wherever you are destined – you can continue your work!
Microsoft Teams is an enterprise-class product. Administration, access rights, configuration and management are all under your control. Only your employees control your communicator. Only you determine to whom and what will be available, who and how will be able to use the functions of the system you define.
In conclusion, we would like to note not only the versatility of the corporate collaboration tool – Microsoft Teams, but also the convenience that this communicator gives employees. Participating in a meeting from a laptop, you switch to a smartphone and even on the road do not interrupt the meeting. An employee can start working with a document in the office and finish work at home. Even abroad, you can receive calls from customers or partners using corporate communication channels and the Internet.
With Microsoft Teams, you can meet the communication and collaboration needs of your friendly employees! And OntargIT specialists will help you implement this modern business solution!