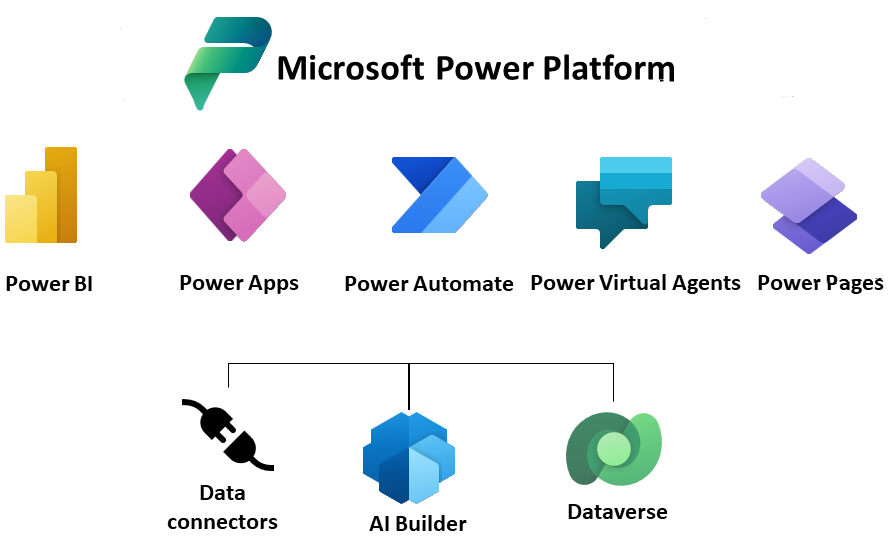 What is Microsoft Power Platform?

Developed on the basis of Microsoft Azure, the Power Platform allows modern companies to receive and analyze any data arrays, process them using applications, and automate the process of their use. Microsoft Power Platform is composed of five key products: Power Apps, Power Automate, Power BI, Power Virtual Agents and Power Pages.
Microsoft Power BI

Power BI (Business Intelligence) is a business analytics service that delivers insights for analyzing data. It can share those insights through data visualizations which make up reports and dashboards to enable fast, informed decisions. Power BI scales across an organization, and it has built-in governance and security allowing businesses to focus on using data more than managing it.
Microsoft Power Automate

Power Automate lets users create automated workflows between applications and services. It helps automate repetitive business processes such as communication, data collections, and decision approvals. Power Automate's simple interface allows every level of user to automate work tasks – from beginners to seasoned developers.
Microsoft Virtual Agents

Power Virtual Agents enables anyone to create powerful chatbots using a guided, no-code graphical interface, without the need for data scientists or developers. It minimizes the IT effort required to deploy and maintain a custom solution by empowering subject matter experts to build and maintain their own conversational solutions.
Microsoft Power Apps

Power Apps provides a rapid low code development environment for building custom apps for business needs. It has services, connectors, and a scalable data service and app platform (Microsoft Dataverse) to allow simple integration and interaction with existing data. Power Apps enables the creation of web and mobile applications that run on all devices.
Unlock Power Platform advantages
Efficiency and Automation
Spend less time on repetitive tasks and more on what truly matters. Power Platform automates processes and workflows, freeing your team to focus on innovation and growth.
Data-Driven Decision Making
Power Platform consolidates your data into easily digestible visuals, allowing you to make smarter, more informed decisions.
Ease of Use
You don't need to be a tech expert to use Power Platform. Its user-friendly interface enables everyone on your team to build custom solutions and analyze data with ease.
Scalability
Power Platform grows with you. Whether your business is small, medium, or large, Power Platform's tools and features can be tailored to your size and needs.
Secure and Compliant
Power Platform adheres to more than 70 global compliance standards to ensure your data remains secure and private.
Integration and Connectivity
Connect your apps, services, and data sources seamlessly. Power Platform's robust integration capabilities ensure a unified, efficient workspace.
Innovation and Customization
Power Platform lets you build and customize apps that fit your unique business needs and goals, helping you stay ahead in the digital landscape.
Collaboration and Productivity
Power Platform enhances collaboration within your team, driving productivity and fostering a culture of teamwork and shared success.
Achieve more with the latest updates!
Subscribe to our newsletter for targeted Microsoft Dynamics 365 updates and never miss out on the latest features that can resolve your business challenges!
Power Platform and Copilot

Discover the power of integration with Microsoft Power Platform and Copilot! Together, these tools take efficiency to the next level. Now you can enjoy smooth and seamless automation, advanced AI assistance, and actionable insights, all in one place. This seamless integration helps to enhance productivity, decision-making and minimize manual tasks. Start exploring a smarter way of working!