Today companies can face difficulties during billing and revenue recognition processes. Relying on separate revenue management application may cause disagreements with master accounting system in data and we can never forget about human factor.
Subscription billing solution in Microsoft Dynamics 365 Finance and Operations enables organizations to manage contract revenue opportunities and recurring billing through billing schedules. Complex pricing and billing models and revenue allocation are easily managed, and are billed and recognized at the product line level. Multi-element revenue allocation enables allocation of revenue to comply with International Accounting Standards and Generally Accepted Accounting Principles standards. The Subscription billing solution consists of 3 independent modules – Recurring contract billing, Revenue and expense deferrals and Multi-element revenue allocation. In this blog we are going to dive into Recurring contract billing module.
Recurring contract billing lets you manage recurring billing and price management to provide control over pricing and billing parameters, contract renewal, and consolidated invoicing. This module includes reports, including monthly recurring revenue, as well as line detail inquiries that help you analyze your sales and based on the data make business decisions.
Before you start working with Recurring contract billing module you have to set up Billing schedule group. Here you can select:
Billing frequency. It can be Monthly, Daily, Quarterly, Semiannually, Annually or One-time.

Billing interval – it is time period between the billings. For example, if you set up billing frequency as Daily and specify Billing interval "7" this means that you want to bill your customers each 7 day

Item type

– item type defines how you calculate product quantity to bill. You can select next options:

Standard – Billing for the customer is done based on quantity selected on the Billing schedule line.
Usage – Billing is done based on usage for each billing period. You can manually enter consumption quantity in Billing schedule line
Milestone – Billing is done based on Milestone template that you set up. For example milestones can be different services that you provide and you want to bill your customer for each service or it can be bundle of products and services. You can define allocation percentage or fixed amount for each milestone.

Pricing method – Pricing method defines how the unit price for the items in the order is calculated. There are 4 options available:

Standard pricing – When the standard pricing method is used the unit price is selected based on Base sales price selected for this product in Product information management module
Flat – When the flat pricing method is used, the unit price for a billing schedule line item on the Billing schedule page can be edited to any value that you want. So it is almost the same as Standard pricing method but the difference is that you can select unit price manually.
Tier method – can be used if your sales price variates from sales order quantity. Using this method system will calculate price depending on your sales prices set up.
Flat tier – can be used if your sales amount variates from sales order quantity. For example if you have trade agreement that says that if the sales order quantity is between 10 to 20 pcs the total billing amount is 5000 USD for any quantity in this specific range, the flat tier pricing method is what you need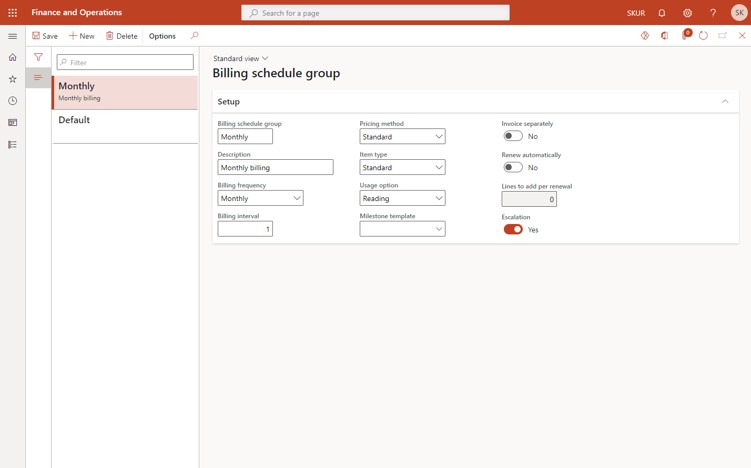 After all the setup is done you can create your billing schedule. You should select billing schedule group, your customer, billing start date and number of periods.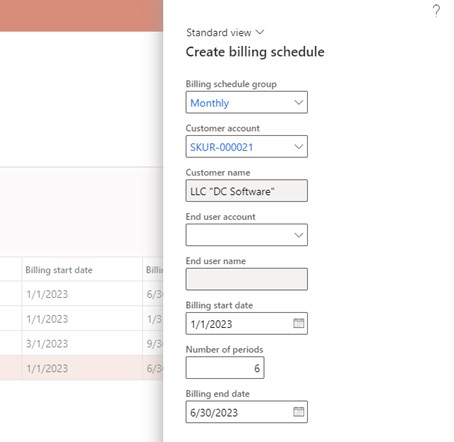 After you create your billing schedule you can work with it. You can add lines for your order, add items and services that you are going to bill, maintain your milestones if item type Milestone is selected for specific line, modify billing information such as number of periods, frequency, payment terms etc. Moreover you can later create invoices right from here.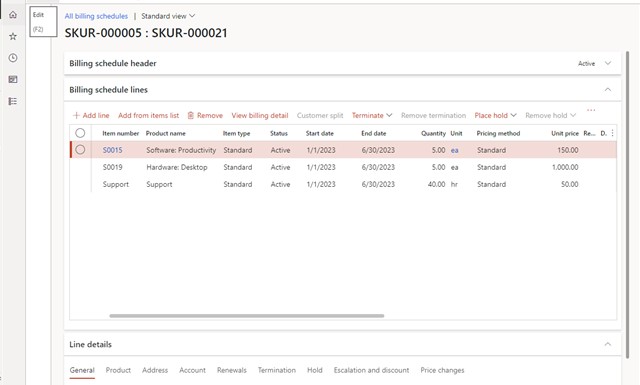 Using View billing detail form you can preview billing for each period, enter data about product consumption if you are billing your customer based on consumption and view sales orders and invoices that were created previously. This form can help you effectively maintain your recurring billing for this specific schedule.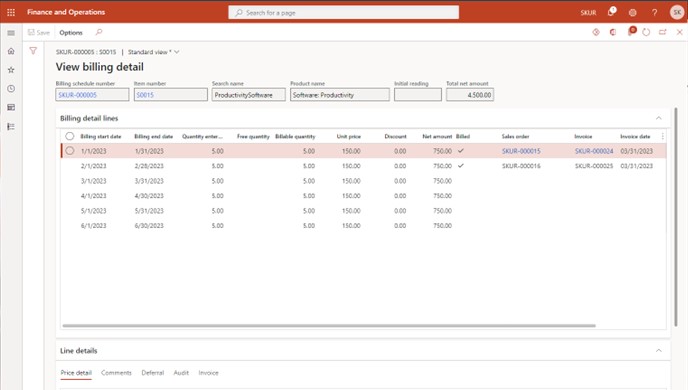 As we mentioned before you can generate invoices right from your billing schedule or by using periodic operation. When you generate invoices firstly you select date filters to specify which exact periods and billing lines should be invoiced. Secondly, you may choose different posting options such as:
Post invoice automatically

Create invoice proposal page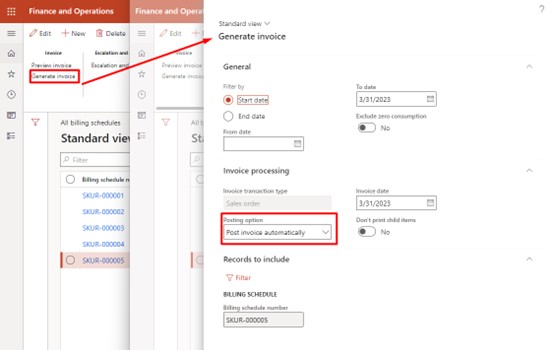 Using different tools in Accounts receivable module you can optimize your business process of recurring billing. For example, setup approval workflow, attach your specific printed forms etc.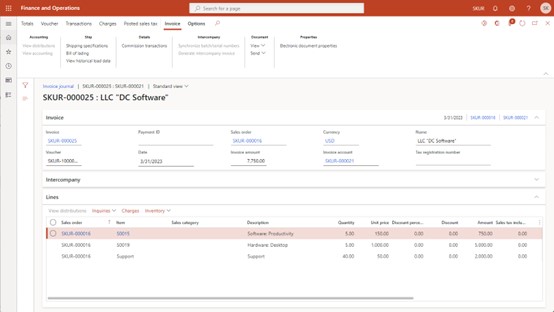 The last thing that we will look at today is Monthly recurring revenue(MRR) report. It is available in Subscription billing workspace and provided by PowerBI. This report provides data about beginning MRR, New sale, Charm and Ending MMR for each analyzed period with breakdown up to separate customer. This report can help your managers analyze recurring contract billing effectiveness, churn percentage, amount of new sales etc.