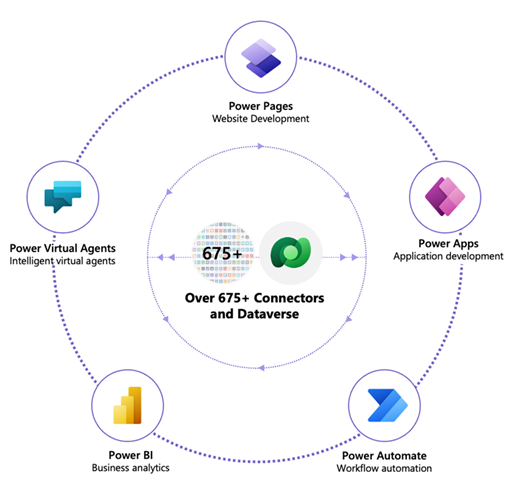 What is Microsoft Power Pages?

Microsoft Power Pages is a secure, enterprise-grade, low-code software as a service (SaaS) platform for creating, hosting, and administering modern external-facing business websites. Whether you're a low-code maker or a professional developer, Power Pages empowers you to rapidly design, configure, and publish websites that work across web browsers and devices.
Design engaging websites

Experience effortless design with Microsoft Power Pages. Utilize drag-and-drop features with no-code components like images, videos, and business forms. Customize themes to align with your brand and build pages that render perfectly across all devices—desktop or mobile. Embrace the convenience and innovation tailored for modern businesses with Microsoft Power Pages.
Use ready-to-go templates

Explore the power of customization with Microsoft Power Pages. Start with foundational building blocks from versatile default templates that include intuitive page structures, navigation, and more. Personalize every section or image, enhancing your site with ease. Extend Dynamics 365 applications to connect with customers, partners, suppliers, and vendors using specially designed templates for customer self-service, community self-service, and partner relationship management.
Use Design studio

The Power Pages design studio is an intuitive interface that enables low-code makers to build and configure rich business web apps.
Pages workspace for creating, designing, and arranging webpages

Styling workspace for applying styles and themes to your site

Data workspace for creating and modifying Microsoft Dataverse tables used in data-driven web applications

Set up workspace for administration and site management
Preview your site

Finish building your site effortlessly with Microsoft Power Pages, and then preview it on any device. Choose the 'Desktop' option to open your site in a new web browser tab, giving you a clear view of how it will look on larger screens. For a seamless mobile experience, simply scan the QR code with your smartphone or tablet to preview your site instantly. You can also email a direct link for easy mobile site viewing. Microsoft Power Pages provides versatile solutions for every stage of your website's development.
Unlock Power Pages advantages
Effortless website creation
Microsoft Power Pages offers intuitive drag-and-drop design tools, allowing even beginners to create professional websites. With user-friendly templates and no coding required, it's a top solution for efficient website building.

Responsive design preview
Check your website on desktop and mobile devices with Power Pages' innovative Preview option. Scan a QR code for mobile viewing and ensure a responsive design that adapts to all screen sizes, enhancing user experience.
Collaboration and integration
Teamwork is simplified with Power Pages. Integrated with Microsoft's suite of productivity tools, it facilitates real-time collaboration and editing, making it a choice platform for businesses and website development teams.
Industry-standard security
Power Platform adheres to more than 70 global compliance standards to ensure your data remains secure and private.

Scalable and customizable tool
From personal blogs to large corporate websites, Power Pages provides scalable web hosting solutions that grow with your needs. Benefit from Microsoft's reliable infrastructure and enjoy the flexibility to customize your site with ease.
Achieve more with the latest updates!
Subscribe to our newsletter for targeted Microsoft Dynamics 365 updates and never miss out on the latest features that can resolve your business challenges!
Power Pages and Copilot

Discover the power of integration with Microsoft Power Pages and Copilot! Together, these tools take efficiency to the next level. Now you can enjoy smooth and seamless automation, advanced AI assistance, and actionable insights, all in one place. This seamless integration helps to enhance productivity, decision-making and minimize manual tasks. Start exploring a smarter way of working!