Subscription billing solution in Microsoft Dynamics 365 Finance and Operations enables organizations to manage contract revenue opportunities and recurring billing through billing schedules. Complex pricing and billing models and revenue allocation are easily managed, and are billed and recognized at the product line level. Multi-element revenue allocation enables allocation of revenue to comply with International Accounting Standards and Generally Accepted Accounting Principles standards. The Subscription billing solution consists of 3 independent modules – Recurring contract billing, Revenue and expense deferrals and Multi-element revenue allocation.
Revenue and expense deferrals module lets you manage revenue in compliance with ASC 606 and IFRS 15 accounting standards. This feature will enable revenue recognition on document types beyond sales orders allowing greater control of revenue.
Revenue and expense deferrals module lets organizations eliminate manual processes or external systems by allowing users to manage revenue in one system. Real-time reporting provides insights into critical information, such as monthly recurring revenue.
Managing deferrals at the line-item level puts you in control of the revenue recognition process. Having an automatic process helps reduce mistakes that can creep in through manual processes and saves time.
In this blog we will overview the process of using Revenue and expense deferral module starting from configuration, then create deferral schedule and in the end we will take a look at the final postings.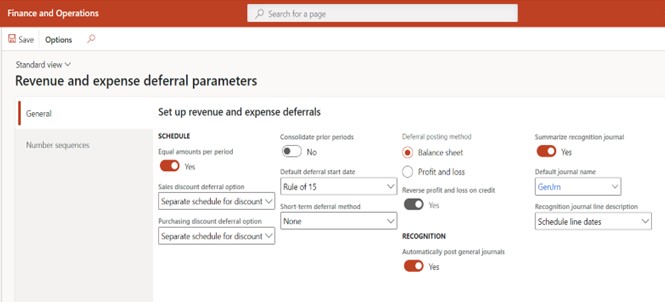 Everything begins at Revenue and expense deferral parameter.
Here you should set up default journal name for revenue recognition and deferral posting method – it can be either to Balance sheet or directly to Profit and loss accounts. Moreover you can set up various parameters to make your user experience easier. For example, if you want deferred amounts to be equal per period, what default deferral start date should be etc.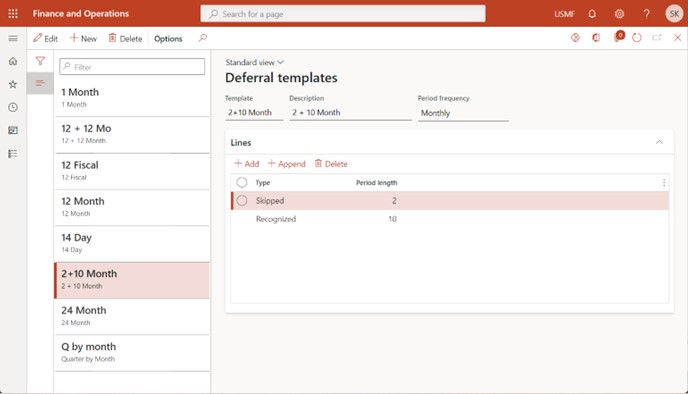 Next you should create deferral templates. They define your deferral schedule, basically how you want your revenue and expenses to be deferred, how long and how frequently.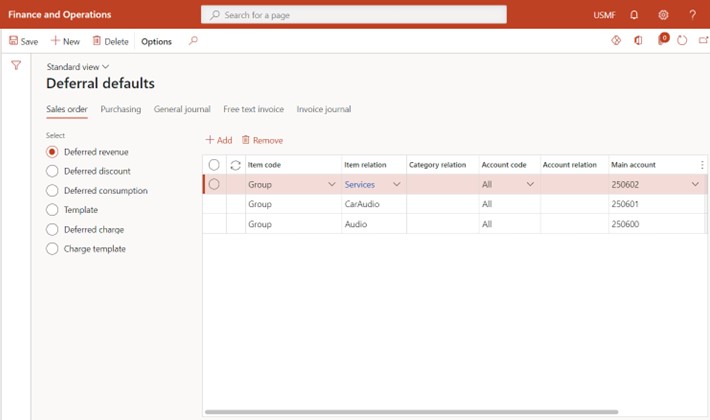 One of the essentials settings are deferral defaults.
Here you define main accounts which will be used for deferred revenue and expenses. The settings are flexible because you can set up different accounts up to specific item or counterparty account. You can also define which deferral templates should be used for each item or item group.
Finally you can set up items deferred by default so you don`t have to manually create deferrals every time. Once an item is set up as deferrable, the deferral schedule is automatically created when items are added.

Now after all the set up is finished you can start using revenue and expense deferrals module. As an example we will use it with Sales order in Accounts receivable module. It is also important to add that this functionality also integrated with Free text invoices in Accounts receivable module, Purchase orders and Invoice journals in Accounts payable module and General journals in General ledger module.
After creating a Sales order and adding product lines you can see Deferrals settings using Deferrals form. Here you can edit main accounts for deferrals and deferral schedule if it is necessary. Moreover, here you can turn on or turn off revenue and expense deferrals for this sales order line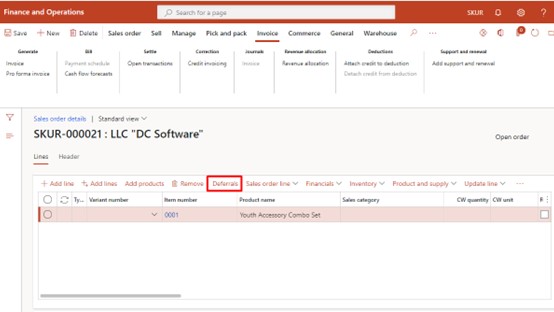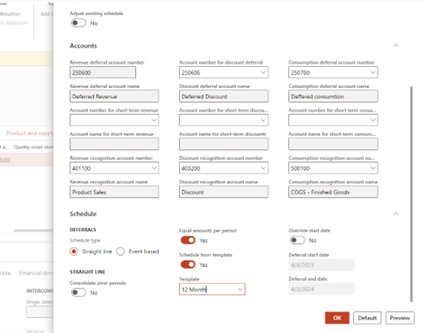 After posting invoice for the sales order system automatically creates deferral schedule that is available at Revenue and expense deferrals module. One schedule is created for revenue and other for consumption expenses in case you need to recognize them independently.
Deferral schedule form lets you easily recognize revenue and expenses, modify deferral settings if any mistake was made previously and analyze revenue recognition using analytical data that are calculated automatically.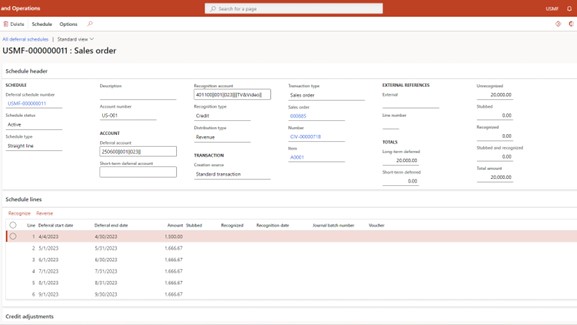 If you need to create revenue and expense recognition journal you can do it from Deferral schedule form or using periodic operation for mass processing. You even can setup the recurring process, for example, to run once a month so you don`t have to make any manual work at all.
After you recognize revenue and expenses in deferral schedule you can see revenue recognition journal number and voucher number. This journal contains recognition postings.

Now lets revise the results. Here are transactions that were posted. At first, when we posted invoice system used our deferral accounts for revenue and costs of goods – Accounts receivable account was debited from Deferred revenue account and Deferred consumption was debited from stocks account.

Later when we started revenue and expense recognition our Revenue and COGS accounts appear. So after full recognition closing balance for our deferral accounts will be zero.
In addition, in Subscription billing workspace the Waterfall report is available for you from the box. It is powered by Power BI so you may easily make changes to it. This report lets you analyze effectiveness of your revenue recognition process, review unrecognized amounts up to each customer, invoice or main account. This data allows you to see the full picture of your sales and purchases, it can help you with making business decisions.