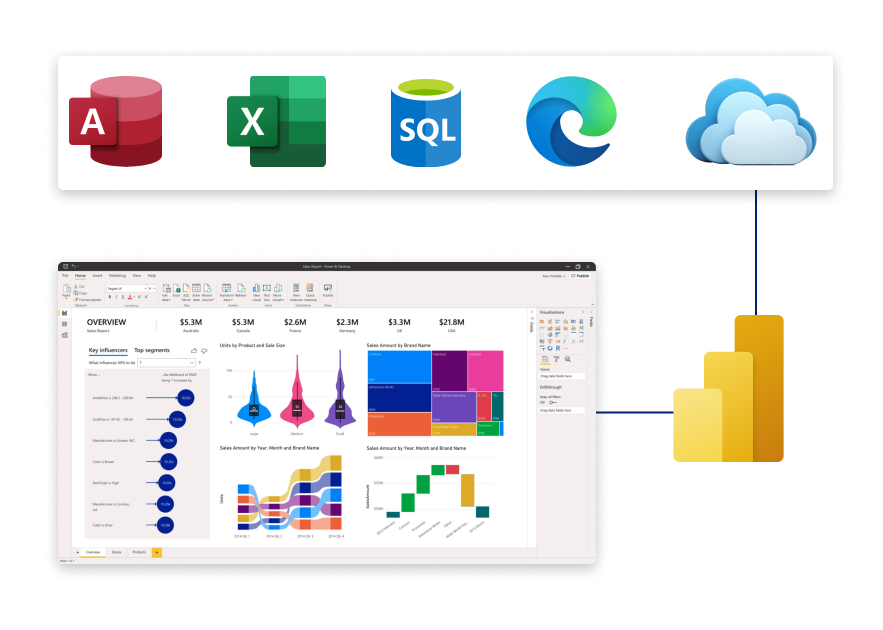 What is Microsoft Power BI?

Microsoft Power BI is a collection of software services, apps, and connectors that work together to turn your unrelated sources of data into coherent, visually immersive, and interactive insights. Whether your data is a simple Microsoft Excel workbook, or a collection of cloud-based and on-premises hybrid data warehouses, Power BI lets you easily connect to your data sources, clean, and model your data without affecting the underlying source, visualize (or discover) what's important, and share that with anyone or everyone you want.
Power BI parts

Power BI consists of a Microsoft Windows desktop application called Power BI Desktop, an online SaaS (Software as a Service) service called the Power BI service, and mobile Power BI apps that are available on phones and tablets.
These three elements — Desktop, the service, and Mobile apps—are designed to let people create, share, and consume business insights in the way that serves them, or their role, most effectively.
Power BI concepts

The major building blocks of Power BI are: datasets, reports, and dashboards. They are all organized into workspaces, and they are created on capacities.
Capacities are a core Power BI concept representing a set of resources used to host and deliver your Power BI content. Workspaces are containers for dashboards, reports, datasets, and dataflows in Power BI.
Data modeling and vizualization

With Power BI Desktop, you can connect to multiple different sources of data, and combine them (often called modeling) into a data model. This data model lets you build visuals, and collections of visuals you can share as reports, with other people inside your organization.
Security and administration

Similar to many Microsoft services, Power BI is built on Azure. Users sign in with their credentials held in Azure Active Directory and control the level of sharing for every report, data or dashboard, determining whether recipients can edit or only view items. Power BI administration is the management of a Power BI tenant, including the configuration of governance policies, usage monitoring, and provisioning of licenses, capacities, and organizational resources. The administrator can help support an organization to make sure that critical goals are met.
Get self-service analytics at enterprise scale
Reduce the added cost, complexity and security risks of multiple solutions with an analytics platform that scales from individuals to the organization as a whole.
Use smart tools for strong results
Find and share meaningful insights with hundreds of data visualizations, built-in AI capabilities, tight Excel integration, and prebuilt and custom data connectors.
Help protect your analytics data
Gain leading sensitivity classification and data loss prevention capabilities to help keep your data secure and compliant—even when it's exported.
Achieve more with the latest updates!
Subscribe to our newsletter for targeted Microsoft Dynamics 365 updates and never miss out on the latest features that can resolve your business challenges!
Why Microsoft Power BI?

For the fifth year running, Microsoft is named a Leader in the Gartner Magic Quadrant for Analytics and Business Intelligence Platforms.
With Power BI you can create and share interactive data visualisations across global datacentres, including national clouds to meet your compliance and regulation needs. As a GOLD Microsoft Partner, OntargIT provides great service and stable support with solutions implementation.