The production of something requires the control of the correct technical documentation, that is the standard for all enterprises inside the organization. All changes have a direct or indirect influence on the product, and they have to be controlled whether it is a change in the technical conditions of production or it is a quantitative and/or qualitative change in the recipe. They can be visible and invisible, they can be initiated for several different reasons: improving the quality, reducing costs, automating equipment operations, saving consumed resources and materials, etc.
Usually, the approval of engineering changes takes place in several stages, depending on the complexity of production; can be handled by many people, depending on the structure of the organization. The document will be taken into operation by all the enterprises after the final approval of the engineering changes and the finalization of organizational formalities.
Changes in engineering information have a direct impact on supply chain management, that's why they need to be tracked in the system.
With ECM (Engineering change management) you can always rely on up-to-date product data in D365FO, which allows automating approval processes for changes, and as result, bringing a new product to target markets faster.
Here is a list of ECM main functionality:
Product versioning

Enhanced product release functionality that lets you maintain product master data in one legal entity (the engineering company) and publish the fully configured released product to other legal entities

Rules for validating that required information is entered before a product version is activated (readiness checks)

Improved product lifecycle management through fine-grained control over when a released product can be used in specific business processes

Engineering change requests that are supported by workflows

Engineering change orders that are supported by workflows
Let's have a look at the part of them.
Visually, the items configured through ECM looks like on this screenshot (there are filled additional fields and special buttons are activated):

For such item the next options are available:
Product versioning: makes it easy to track changes. You can assign your own rules for naming version: automatically, manually, by configured list.

Product owner availability: the group of users that are responsible for product changes. Only these users can change product engineering information.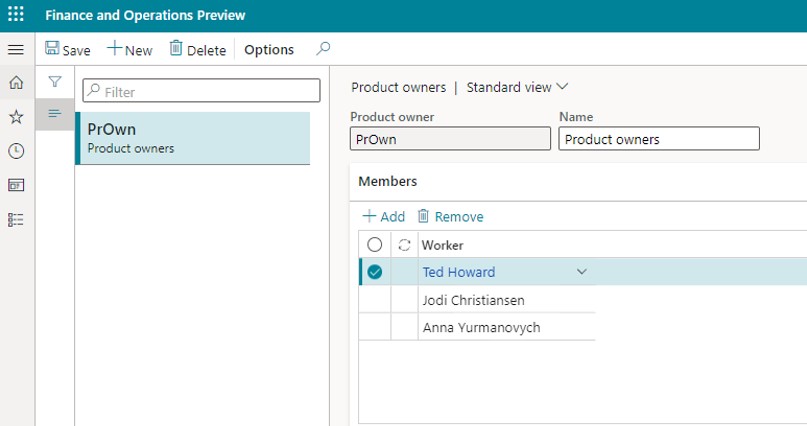 Product readiness policy (system and manual check): when you want to be sure that item is fully configured before activate version.

Change requests and orders take place in engineering changes processes. We will look at this functionality later.
Product version supports:
for discrete manufacturers: managing changes in the components (Bill of material);

for process manufacturers: managing changes in the ingredients of formula, co-and by- products.
BOM or Formula has many changes before finding its current form. In reality, all changes were documented and approved by the responsible persons.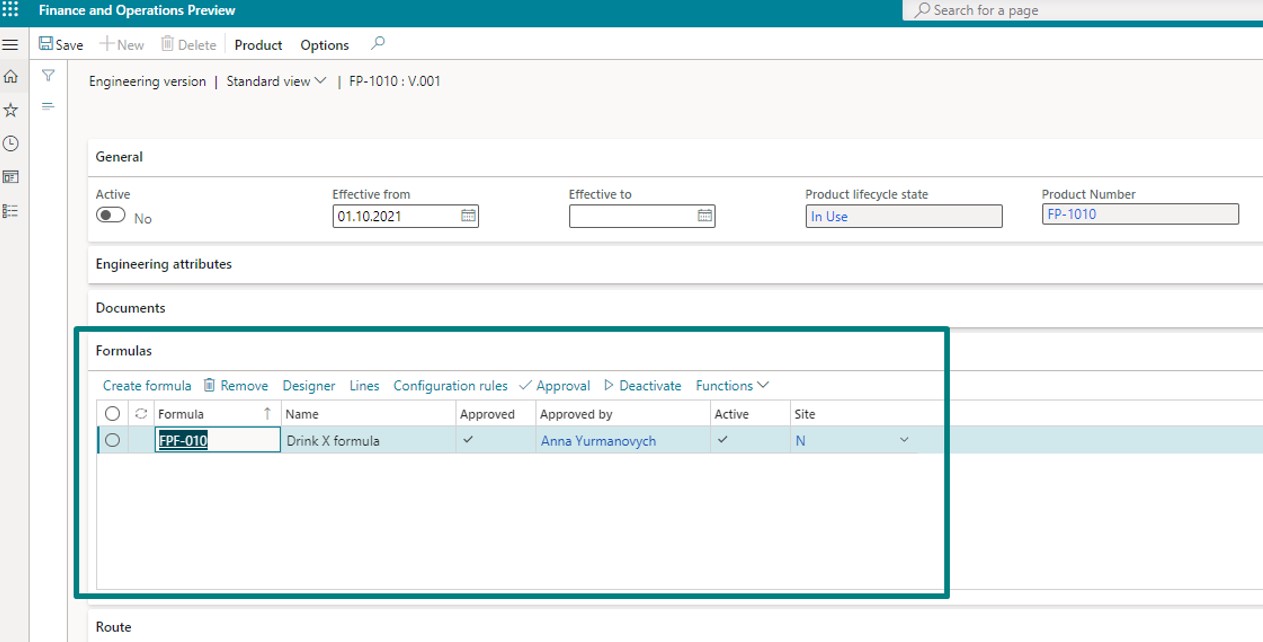 Here we see a list of the main ingredients, materials and their quantities required to produce the product. In the ERP, the recipe is tracked at the version level and looks like this: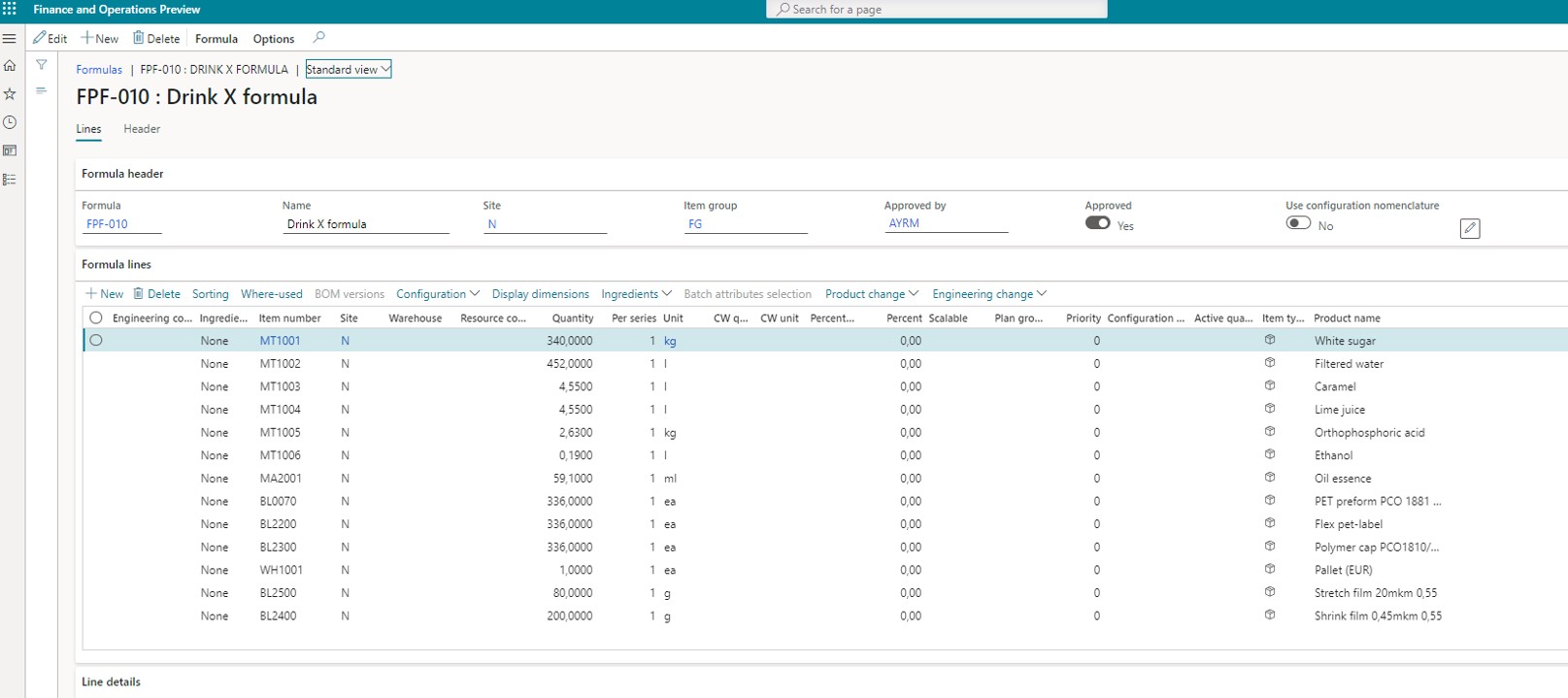 Also, a production route is configured at the version level – a list of operations required to obtain the finish product:

You can attach (if necessary and desired) to the version related technical documentation, instructions, manuals, images, links, etc.: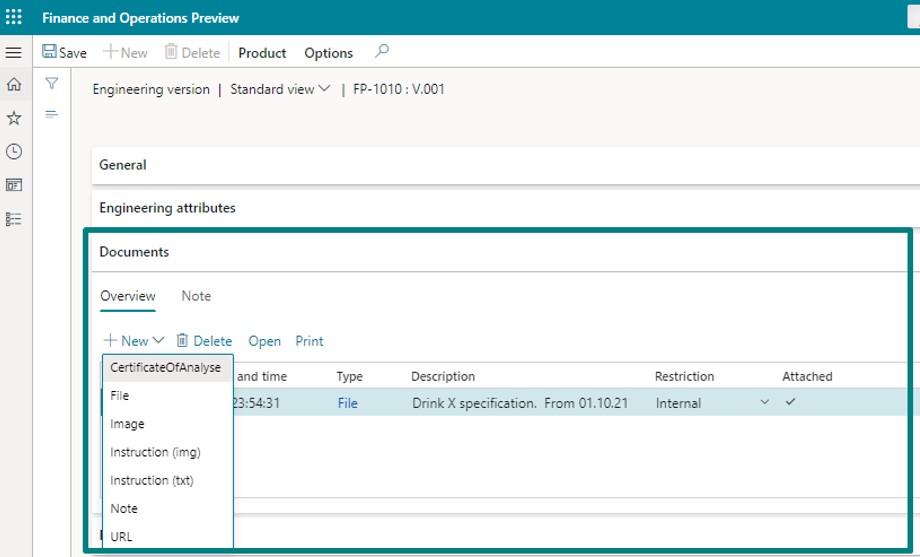 A little more about the version: it can be activated only for a certain period and at the current period only one version can be active.
After version was configured, you can check its readiness as on the screenshot below:

There were the system entities above, you familiarized yourself, that we will be using in the next article to see how the ECM works in practice.