"What is the best ERP option from Microsoft that fits our company needs?"
This is a common question among all Dynamics 365 buyers. Unfortunately, a lot of information about the topic, which is available over the internet, ends up being in one of two categories:
Extremely simplified and biased.
There you can find some magic numbers like: "If you have less than 200 employees – you need to buy BC, and if you have more – buy F&O". Which is, honestly, quite weird.

Very vague and complex.
Doesn't really help business leaders make decisions unless they are seasoned Microsoft technology professionals.
In this article we are going to shutter common myths and make Dynamics 365 ERP selection easier for you.
Let's first figure out product naming. Microsoft has made several rebranding's over the last few years. That literally confuses everyone! To make it clear we need to refer to the history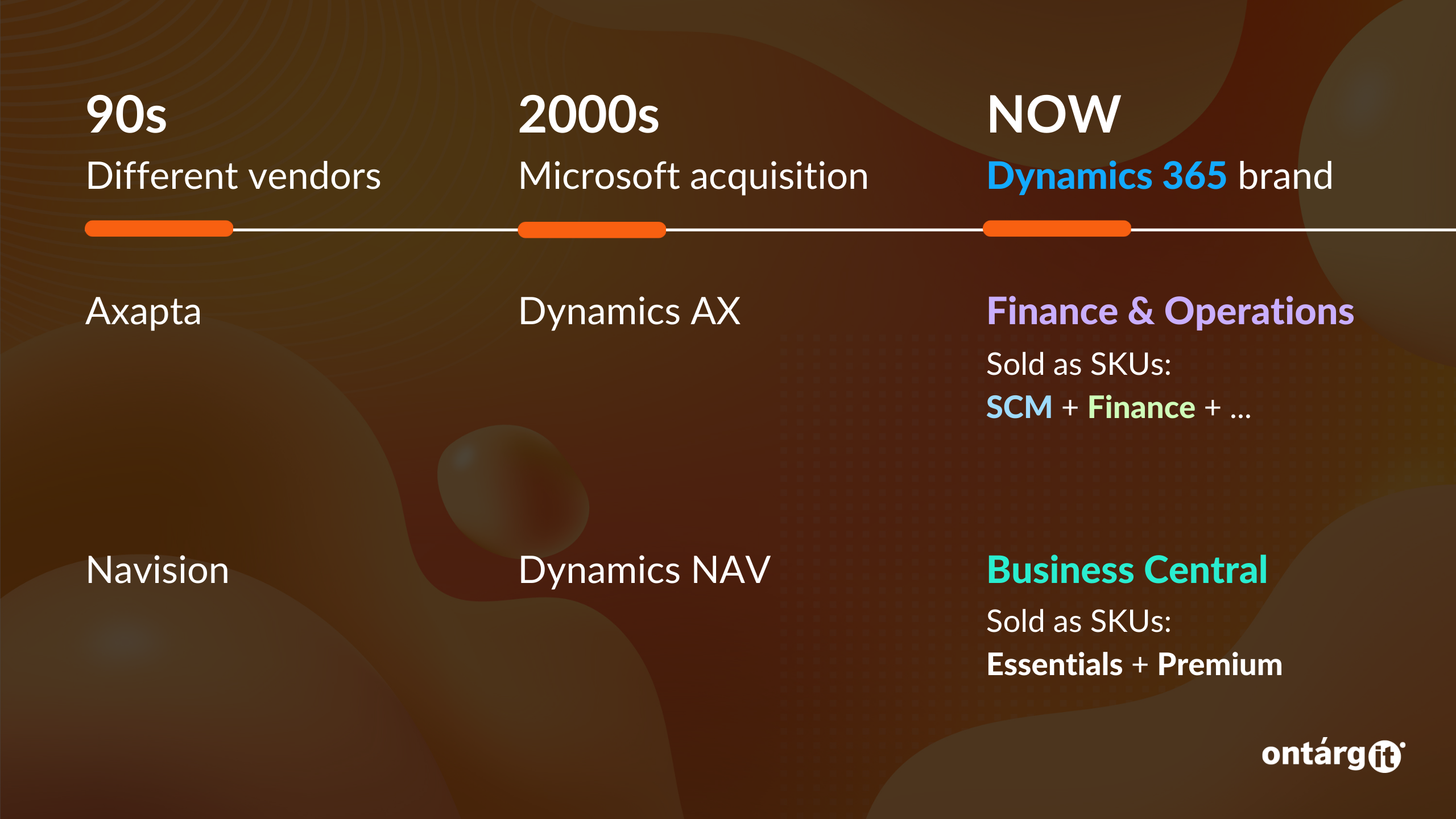 At the very beginning, in the late 90's, there were two completely different ERP products, called Navision and Axapta from two different software vendors. Both products were acquired by Microsoft in 2002, to represent Microsoft's portfolio of ERP solutions.
Brand new names: Microsoft Dynamics NAV and Microsoft Dynamics AX
A few years ago Microsoft decided to add all its business applications (both CRM and ERP) under the same Dynamics 365 umbrella representing application suite in the cloud. Like what they did with Microsoft Office applications earlier. But, in fact, those two products are still on completely different platforms.
Axapta product has become a Finance & Operations platform, aka F&O, and was further divided into different licensing SKUs, depending on features required by the user, i.e., Dynamics 365 SCM, D365 Finance, D365 HR. It is still the biggest ERP offer on the market. Looking back over the past few years, Microsoft primarily invests in Finance & Operations, to compete with other Tier 1 ERP vendors.
Navision is now called Business central platform aka BC and sold in two licensing SKUs – Essential and Premium. The Premium one provides slightly more features (i.e., Manufacturing functionality), but, in total, it has less capabilities than the Finance & Operations platform.
How to differentiate them?
This is where the first myth came from.
Myth 1: Business Central is for small and medium businesses, but F&O is for enterprises
You may assume that Finance & Operations, as a flagship ERP product from Microsoft, is made for enterprise-grade business processes and that's why small and medium companies might not need it.
But in fact, there is no feature or capability Business Central platform offers that hasn't been represented in Finance & Operations or a more suitable option for medium business  by any means.
The only concern you still might have is price, but we will discuss it later in the article.
Myth 2: Business Central user experience is better because the product is smaller
I presume it came from people who had unpleasant experiences with old-fashioned, on-premises ERP software. In some ERP products, especially old ones, users were really struggling. The user interface (UI) was badly designed compared to modern best practices. Since users haven't been in the focus of ERP product designers, the bigger the product was – the more efforts were targeted towards feature rich-functionality in trade-off to user's productivity.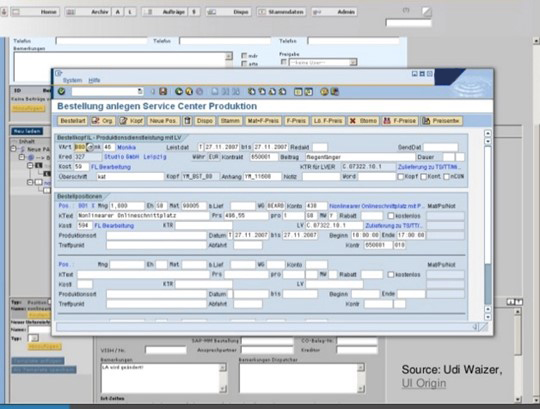 Conventional old ERP UI example
Fortunately, nowadays, most of the tier 1 vendors understand that user productivity is a key to implementation success. From Microsoft's perspective both Dynamics 365 Business Central and Finance & Operations platforms have modern and intuitive UI, made up from business role-focused workspaces and unified experiences across all Microsoft's products. Including Office 365 and Power BI dashboards. Look at some screenshots to compare.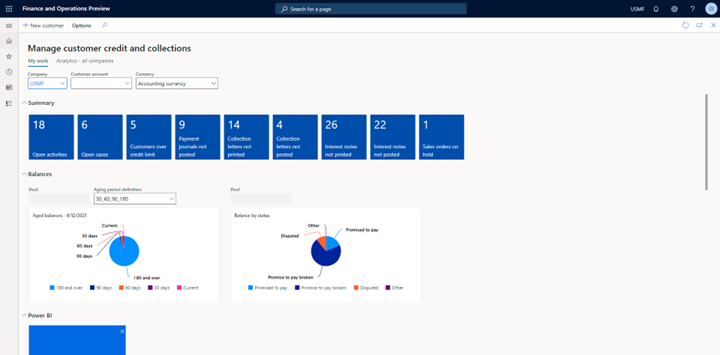 Dynamics 365 F&O. Manage customer credit and collections workspace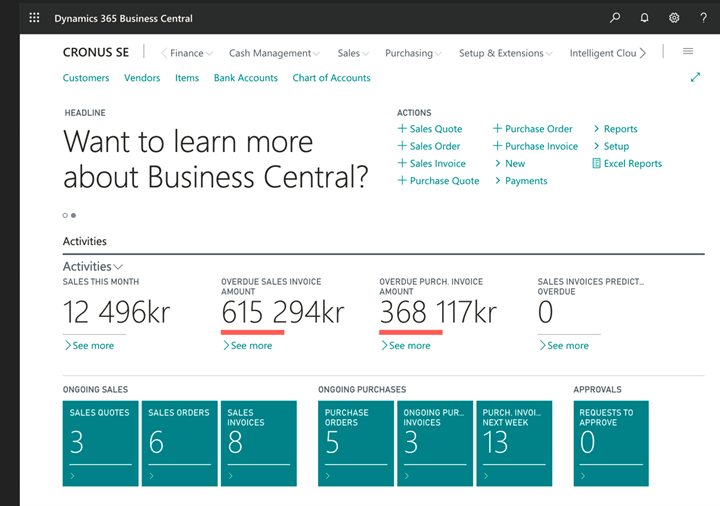 Dynamics 365 Business central. Dashboard
It is well organized, and it has tools by which you can quickly configure the user interface to cover user needs.
With ERP implementation we have 3 main cost categories, representing the total cost of software ownership: licenses, implementation costs, cost of operations & maintenance.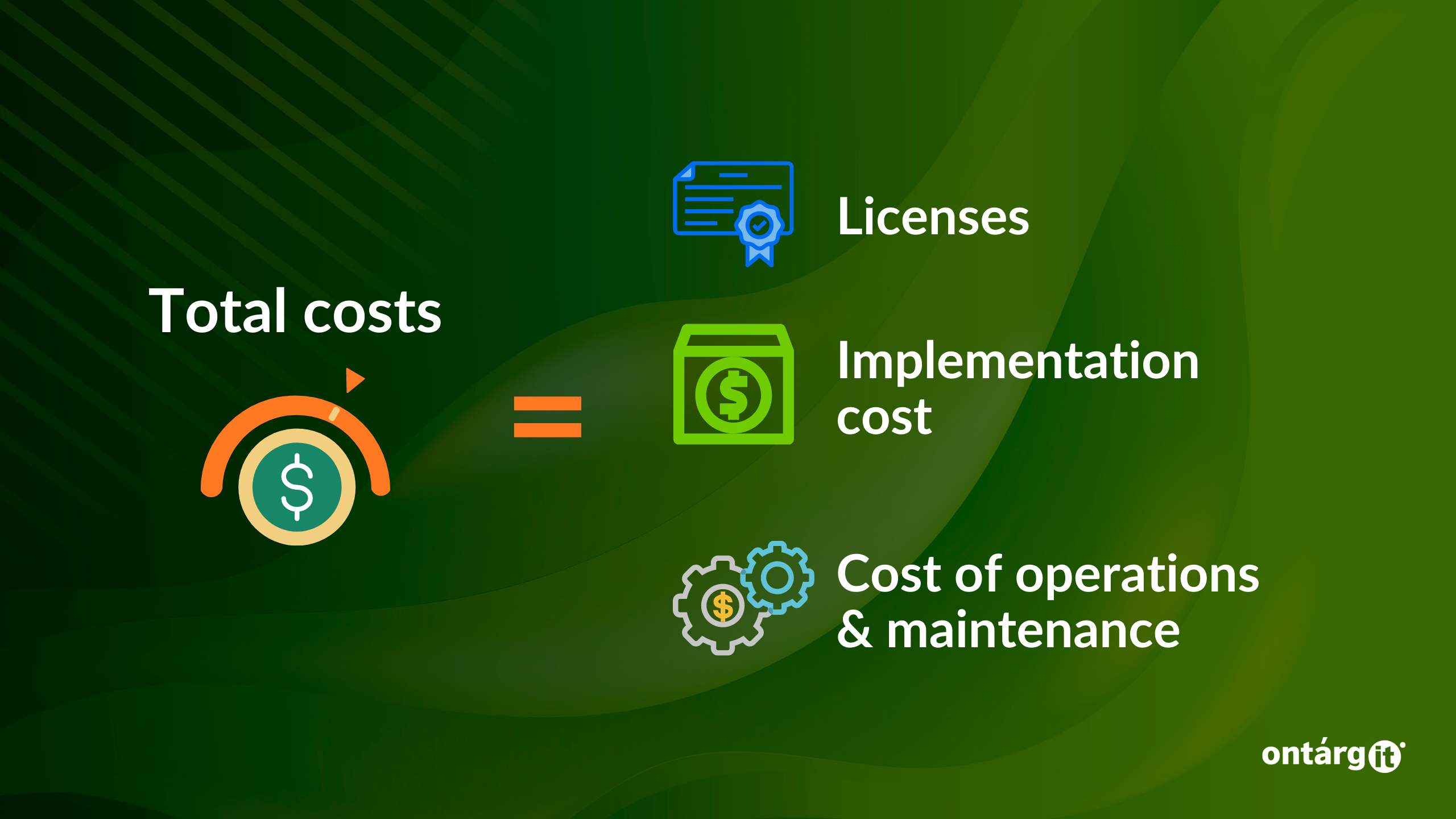 In a new Cloud world, the two biggest cost categories are subscription licenses and implementation services, because infrastructure maintenance tasks are taken by Microsoft, and both Business Central and Finance & Operations are Software-as-a-Service offerings.
The next two myths are about implementation and licensing cost biases.
Myth 3: Implementation cost of Finance & Operations is higher than Business Central's
In terms of implementation cost – it is only a SCOPE that really matters. By "implementation scope" I mean what business processes and functions you want to automate.
From a statistical point of view, Dynamics 365 Finance & Operations is more capable, so project scope is typically bigger, because customers, obviously, want to utilize more off-the-shelf features. 
The bigger the scope > the more people are involved > the more robust implementation approach is used to handle this. These factors impact "average cost" statistics. 
Remember: If the scope of ERP implementation is similar, implementation costs for both Finance & Operations and Business Central should be the same. And, theoretically, slightly less for Finance & Operations because it has more off-the-shelf features which you might not need to build on a project, compared to Business Central. 
For experienced Dynamics 365 consultants, it doesn't matter how many features ERP has overall to quickly configure only the features you need. They don't randomly try every feature before it fits the business.  
Consulting hour rate price doesn't depend on the product you've selected. But rather consulting company brand, market it operates in, industry experience and other product-agnostic factors.
Myth 4: Finance & Operations licenses are always two times more expensive than Business Central.
When you look at Microsoft Dynamics 365 official page – it does look two times more expensive.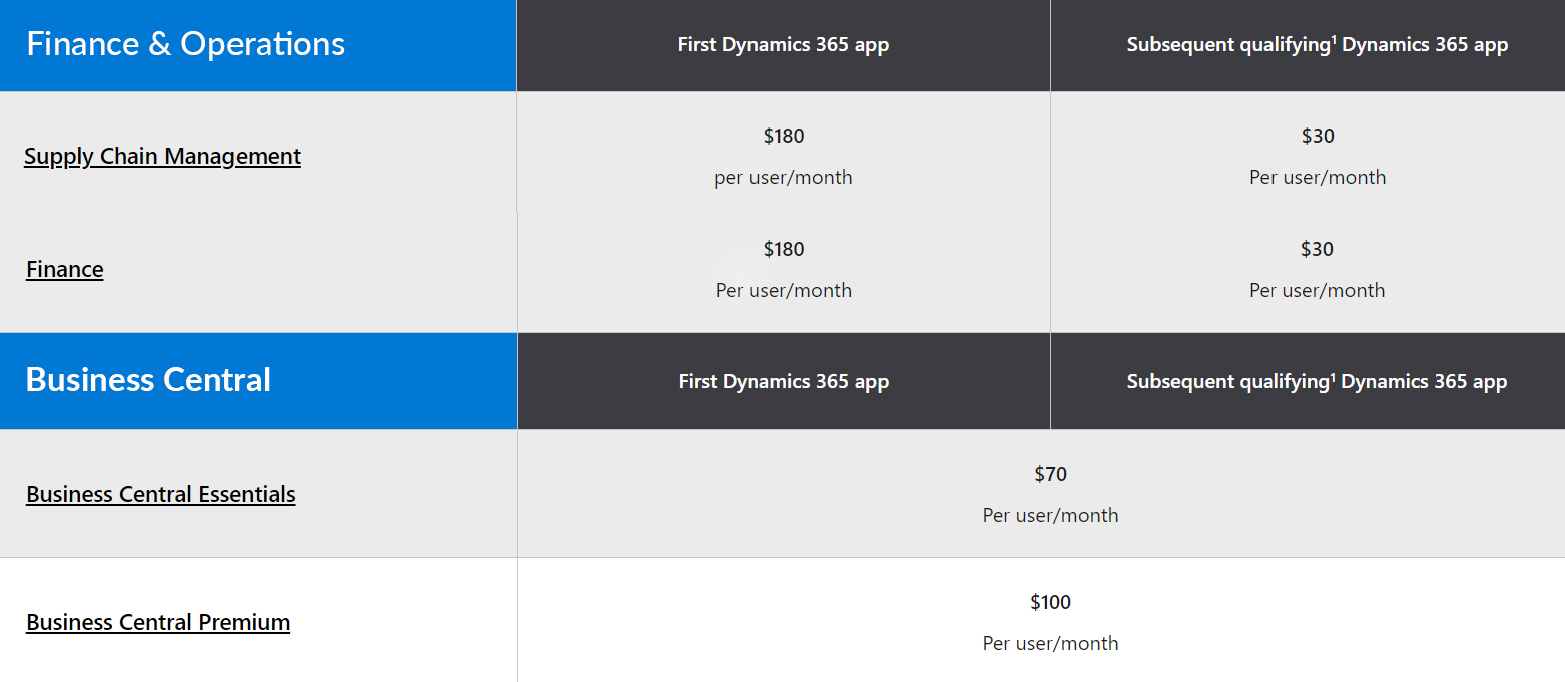 Well, it only makes sense with a small number of users and only when you do not consider extra licenses (I.e., activity user's and Partner's ISV solution) that you will need to purchase additionally. ISV solution is always required for mid-to-complex Business Central implementations.
First, to clarify off-the-shelf product prices, I prepared a small diagram. On X axis – user count, on Y axis – total licensing cost. As cloud subscription-based licenses – both products are priced per user/month.
Business Central licensing cost:
There is no minimum license requirement, so even 1 user license purchase is enough to start deployment of the system. When user count increases the total licensing cost slope is almost linear.
The cost is about 70$ for Essentials license and 100$ for Premium, which includes manufacturing functionality. Let's say, you need 10 essentials and 10 premium licenses for 20 users.
Total cost = 10*70+10*100 = 1700$/month 
Activity user licensing options are not available for user-based subscriptions in Business Central.
Finance & Operations licensing cost:
It starts with 20 full-user licenses, as a minimum purchase requirement. You cannot buy less licenses to deploy the system.  
The average price for Finance & Operations features is between 180-210$, depending on features required by the user. 
For 20 users, in the same example, we might need 10 Supply Chain Management and 10 Supply Chain Management + Finance (add-on) licenses. Total cost will be = 3900$/month.
So, if 20 full users are enough, the price for Finance & Operations is twice higher than for Business Central.
But the Finance & Operations platform has so-called "Activity user" licenses, which cost 50$ per user/month, providing less capabilities than full-user licenses, and designed for financial clerks, shop-floor workers, field engineers, warehouse workers who just need to perform one specific function in the system.

In fact, what we see in customer's implementations, most users just need a few functions in the system to perform their daily job. So, when the number of users goes above 20, the total price difference between Finance & Operations and Business Central becomes lower than 2 times. F&OBC total license price factor change is shown as an orange line on a graph below.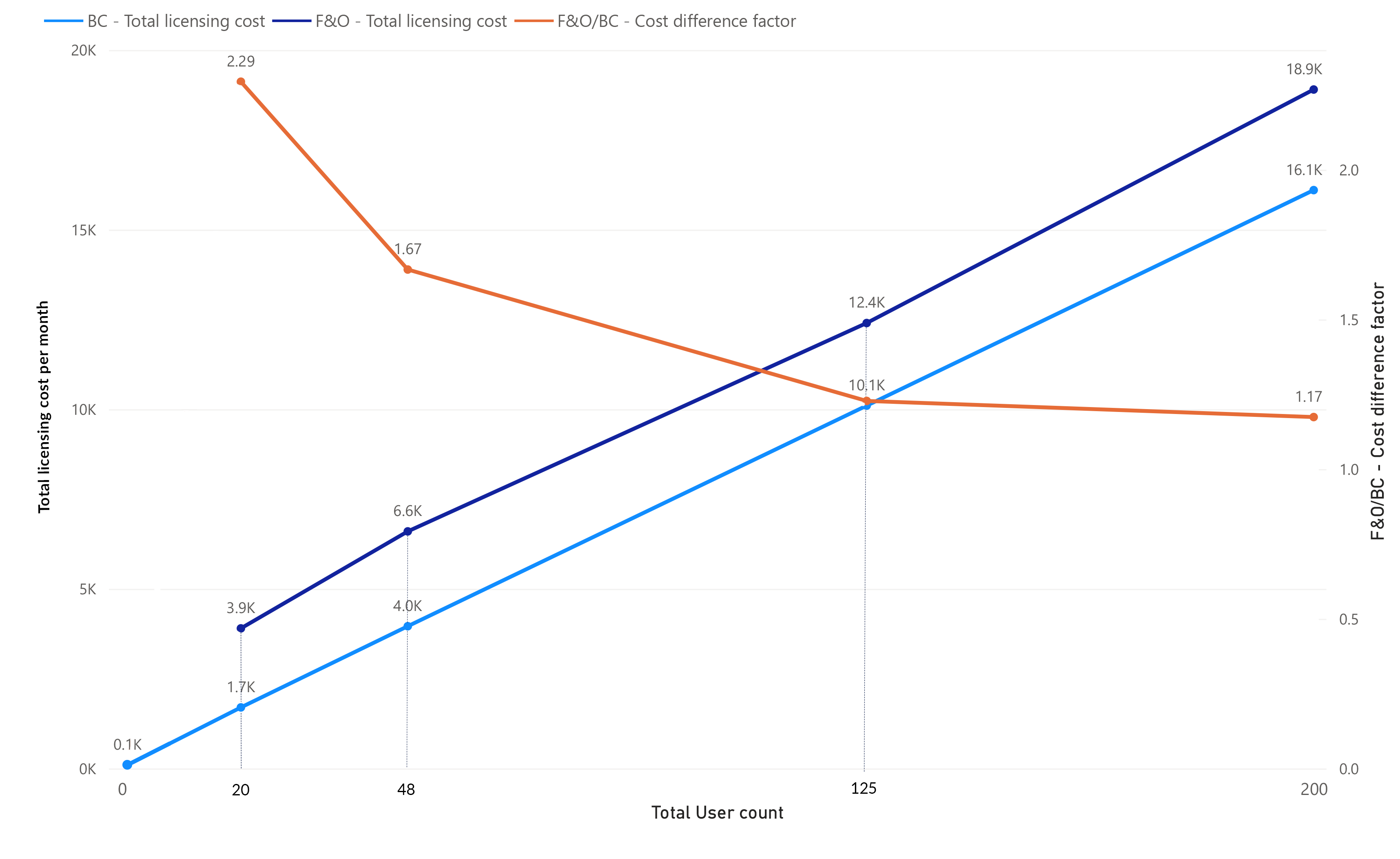 Business Central VS Finance & Operation licensing cost comparison
We had an ERP implementation project for 125 users in a manufacturing company. What we found by calculating the difference ERP production options for them – the prices for 125 user licenses are very close, but Finance & Operations provides a richer and more diverse set of capabilities. Especially considering future business growth. 
Here is a calculation example:
*Disclaimer: Dynamics 365 licensing cost calculation was made for the purpose of this article on indicative set of users and based on the commercial prices available on the Microsoft Dynamics official website at the time of publication of the article. Cost comparison was made to outline general cost difference trend. The real number and category of required user licenses and its cost may differ for your implementation.
Business Central: 40*100$+85*70$=9950$/month

Finance & Operations: 10*210+35*180+80*50=12400$/month
So, Finance & Operations licenses are not always 2 times more expensive than Business Central.
How well do both products support digital transformation strategy?
If we look at typical priorities for mid-size companies, in terms of ERP expectations:
Optimize operations processes

Provide more control and visibility for managers and executives

IT platform should support future business growth
The last point is especially important if you want to get the most from your digital transformation journey. This is where the strategy goes towards implementing Industry 4.0 principles.
At very core, industry 4.0 means:
No more paper for all business processes.
Business data should be collected and processed inside business systems. Humans talk to systems and get information from software.


Connected application stack.
All systems, departments (sales, purchase, operations), vendors, customers, factory assets receive and publish business data into the same platform. It means:

Open architecture

. It should be easy and cost efficient to connect any system to the platform and have integrated business processes. For example, getting information from Customer order in the CRM system to Production module in ERP, automatically collecting feedback about scheduled delivery date back to CRM, and sending electronic notification to a customer.

Unified data model.

Every system should understand and interpret the data equally.

Ability to quickly enable new business processes

when a company needs it, without big investments in system integrations

Real-time analytics and AI predictions to enable data-driven decisions.
What everyone dreams about. Only by having the first two principles implemented can you achieve this outcome.
Let's see how both systems count towards these principles.
I will talk primarily about the manufacturing business. But it is relevant to other industries as well. 
Their core ERP capabilities are similar (both can do order management, accounting, material planning, etc.). 

But let's look how simple ERP implementation looks like
Business bought a few user licenses in Business Central for accountants. But shipping clerks, shop floor operators and other first line personnel don't have access to the system. At the end of a shift, they provide process information on paper to a supervisor. Supervisor or accountants key this data in ERP.
To follow Industry 4.0 and enable real-time analytics or support data-driven decision making business needs to add these users to the system, providing optimized user interface for them, so operations can be executed and registered in real-time. Ideally, via some tablet with touchscreen interface.
Business Central: users need to buy another WMS/MES solution, paying extra money for these products and integrate it with Business Central. Especially if you have chosen a non-Microsoft partner for these solutions. Integration costs, in this case, could be significant.  

Also you need to buy a Premium Business Central license for these users which costs 100$ per user/month. No matter how many manufacturing features are going to be used by them.
Finance & Operations: WMS/MES modules and mobile UI included off-the-shelf. No extra costs for solution and integration. You need to buy only an activity user license for 50$ for these workers.

Next, every modern production manager wants to have OEE calculated, ideally in real time.  
OEE has 3 components:
Productivity – how much we have produced compared to what's ideal product rate.

Quality – how many non-conformances we have, divided by total quantity produced.

Availability – how many unplanned downtimes we had compared to planned asset performance.
To follow Industry 4.0 principles, we need all this information to be calculated and managed in the system. Including information about assets performance
Business Central: the asset management module is not provided on the shelf. Again, you will need to buy a separate solution and integrate it.
Finance & Operations: the asset management module available out-of-box, already integrated with accounting and production process.
Next, in current circumstances, businesses want to collaborate electronically with external parties, like vendors and customers. Business wants to get connected to the application stack.
Simple vendor portal, where vendors can upload their invoices, update orders delivery dates and all of that.

For customers, it is nice to have a B2B e-commerce website, where customers can place their orders without a phone call to a sales manager.
Business Central: not supported out-of-box. You need to buy a separate e-commerce product or develop it yourself. Including Integration costs.
Finance & Operations: Vendor portal available out-of-box. For customers, Microsoft offers a B2B E-commerce portal. It is sold separately, but it is already fully integrated with the Finance & Operations platform.

If you want to operate on a new market and have this new business unit in the same ERP database, with all existing Legal entities, you need to have accounting localization features in ERP for country-specific tax accounting having all Legal entities data to be in the same ERP database. Including a shared chart of accounts, vendor information, corporate exchange rates. So that it is quick and easy to make financial consolidation.
Business Central: multiple instances will be required for each localization. Again, requiring some workaround and manual data processing to consolidate accounts. This approach does not follow Industry 4.0 principles.
Finance & Operations: everything mentioned above is easily handled in one Finance & Operations instance.
To handle further digital transformation movement, Microsoft have recently developed some add-ons (microservices) that are only available for F&O platform.
Planning service – reduces MRP run time in a huge product database from hours to minutes

Hybrid deployment service – to have Manufacturing and Warehouse execution working offline, or on a separate cloud server, while connection to the core ERP server is temporarily lost, to ensure business continuity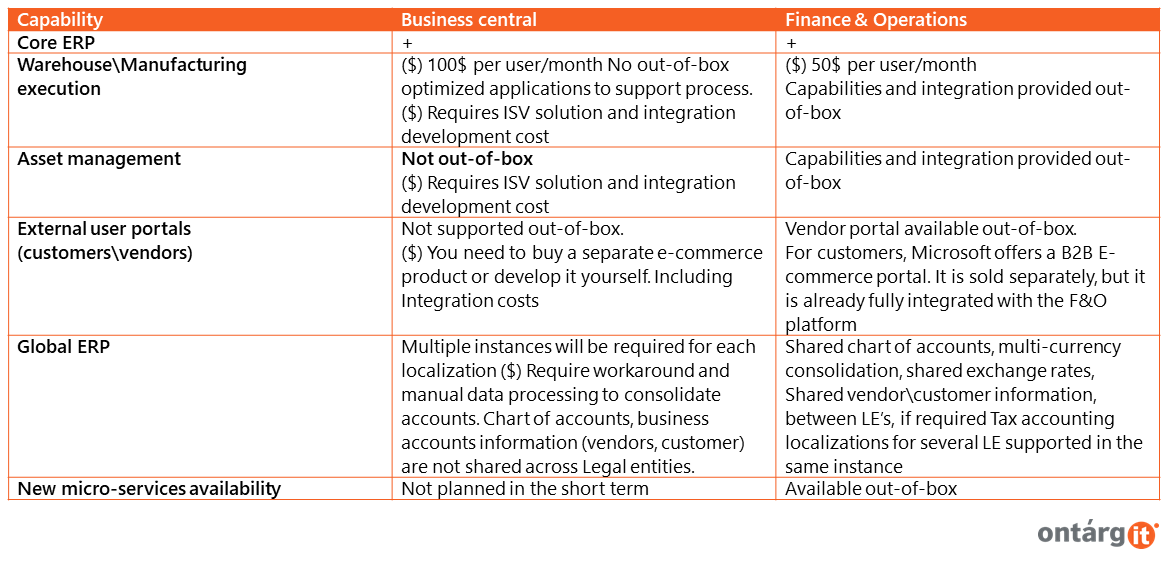 We could go on and on, but I have just emphasized the key feature differences, according to our implementation experience and strategic digital transformation needs.
Below also a quick comparison from some industries perspective.

If your company wants to enhance digital maturity, and you are not a local business with few dozens of employees, and you do expect rapid growth in the next couple of years – there is no real benefit of selecting Business Central over Finance & Operations. In this case, Finance & Operations is the right choice!

The license cost difference will not be that significant compared to what you'll get.
Otherwise, you can consider Business Central as an ERP option.
I know it resonates with mainstream ideas that you might have heard from various sources, including Microsoft. But in the last few years Microsoft Business Applications and the overall ERP market has changed dramatically. A lot of new capabilities were added to Finance & Operations in the first place.
Unfortunately, what we see now, some Microsoft partners, following their old business strategy, try to upsell their "independent solutions" (ISV) for Business Central, sometimes just to fit the Business Central to what Finance & Operations already has out-of-box. While saying that "BC is for SMB and F&O is for enterprise scale….".

We want to challenge that oversimplicity. And it is exactly the reason we started this topic – to provide a clear argument to drive better decisions. That is what we think a good consulting partner should do.
We encourage you to contact us directly if you have any questions or need support in your ERP implementation journey.
Have a good Dynamics experience!