Introducing the World's first AI copilot in both CRM and ERP
Microsoft Copilot provides interactive, AI-powered assistance across business functions—from sales, service, and marketing to supply chain. Dynamics 365 Copilot is also natively built-in to both CRM and ERP applications.
Copilot is integrated into Microsoft 365 in two ways. It is embedded in the Microsoft 365 apps you use every day — Word, Excel, PowerPoint, Outlook, Teams, and more.
Another option – Business Chat. It works across the LLM, the Microsoft 365 apps, and your data — your calendar, emails, chats, documents, meetings, and contacts. You can give it natural language prompts, and it will generate a status update based on the working meetings, emails, and chat threads.
Copilot in Word writes, edits, summarizes, and creates with you.
After a quick prompt, Copilot in Word will create a first draft for you, pulling input from across your company as needed. Copilot can add content to existing documents, summarize text, and rewrite sections or the entire text to make it more concise. You can even get suggested tones – from professional to passionate, casual to appreciative – to help you hit the right note. Copilot can also help you improve your writing by offering tips to strengthen your arguments or iron out contradictions.
Copilot in Excel works side-by-side with you, helping you analyze and explore your data.
Ask Copilot questions about your dataset in natural language, not just formulas. It will discover connections, suggest scenarios, and propose new formulas, based on your questions, generating models based on the questions that help you explore the data without changing it. Identify trends, create powerful visualizations, or ask for recommendations to achieve different goals.
Copilot in PowerPoint helps you turn your ideas into stunning presentations.
Copilot can turn existing written documents into a deck of speaker notes and resources or start a new presentation with a simple prompt or outline. Shorten long presentations with the click of a button and use natural language commands to adjust layouts, reformat text, and synchronize animations.
Copilot in Outlook works with your inbox and messages, so you can spend less time sorting through email and more time communicating.
Summarize long, convoluted chains of letters from multiple people to understand not only what was said, but also the different points of view from each person or still unanswered questions. Respond to an existing email with a simple prompt, or turn quick notes into crisp, professional messages using other emails or content you already have access to in Microsoft 365. Use the toggles to adjust the note's tone or length.
Copilot in Teams makes collaboration easier.
Copilot helps you run more effective meetings, quickly jump into the conversation, organize key discussion points, and summarize key actions so the whole group knows what to do next. In chat, Copilot answers specific questions or reminds you of something you missed, all without interrupting the flow of the discussion. When you add Copilot to your meetings and conversations, you'll also get a powerful tool to help you with routine tasks like creating a meeting agenda based on your chat history, identifying the right people to follow up on, and planning your next drive-in.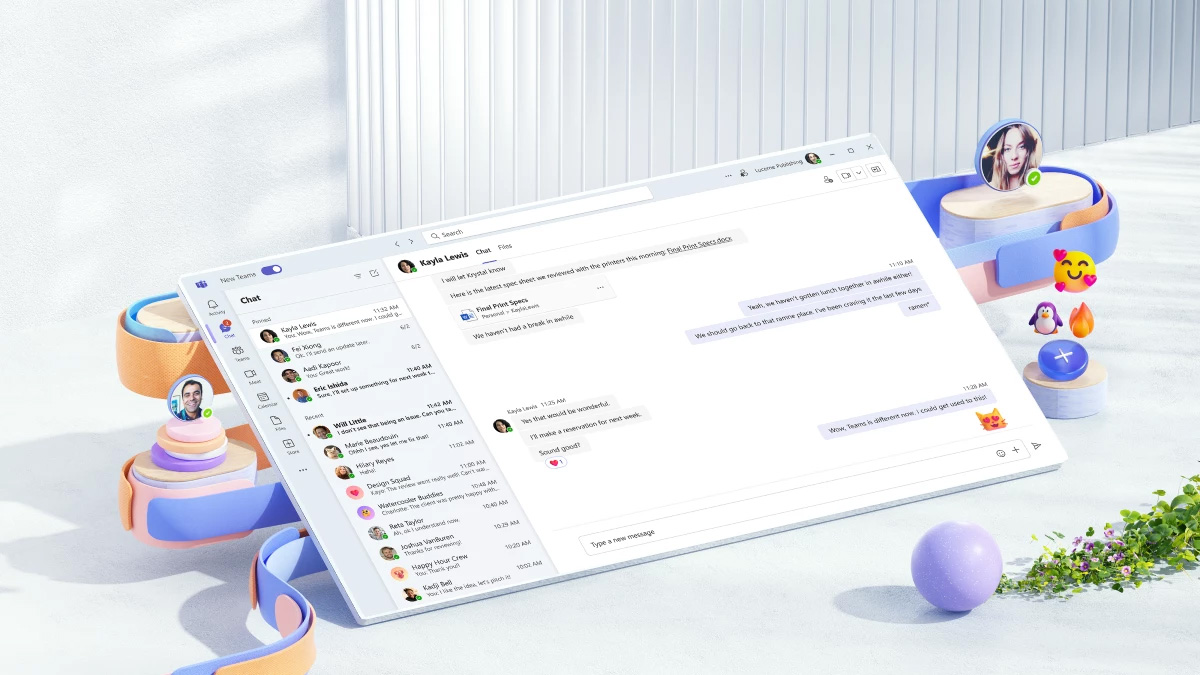 Business Chat is a brand-new feature that works with all your data and apps, letting you do things you never could before.
Business Chat works with you by leveraging the power of Microsoft Graph to combine data from documents, presentations, emails, calendars, notes, and contacts. Combine information from multiple sources to keep everyone on the team informed and moving forward.
Copilot in Microsoft Dynamics 365 Sales and Viva Sales.
Many sales teams struggle to scale seller experiences. AI can help any sales organization to be more productive and effective, enabling them to automate the sales process and know customers more deeply.
New Copilot features help sellers save time, boost productivity, lighten workloads, and stay focused on what matters most: connecting with customers and closing deals.
Viva Sales now generate content suggestions based on customer emails, complete with data relevant to the recipient. The seller selects the option and a reply is generated for review, editing, and sending. The reply is enriched with the combined data from Microsoft Graph—which provides access to data and insights in the Microsoft Cloud and the CRM system.
Email replies are available with enhancements to create customizable emails.
The new feedback mechanism allows sellers to rate the AI-generated content with a thumbs up or thumbs down, which helps refine and improve future replies.
By auto-suggesting customizable content, sellers can spend less time composing emails and searching for sales data from colleagues and databases.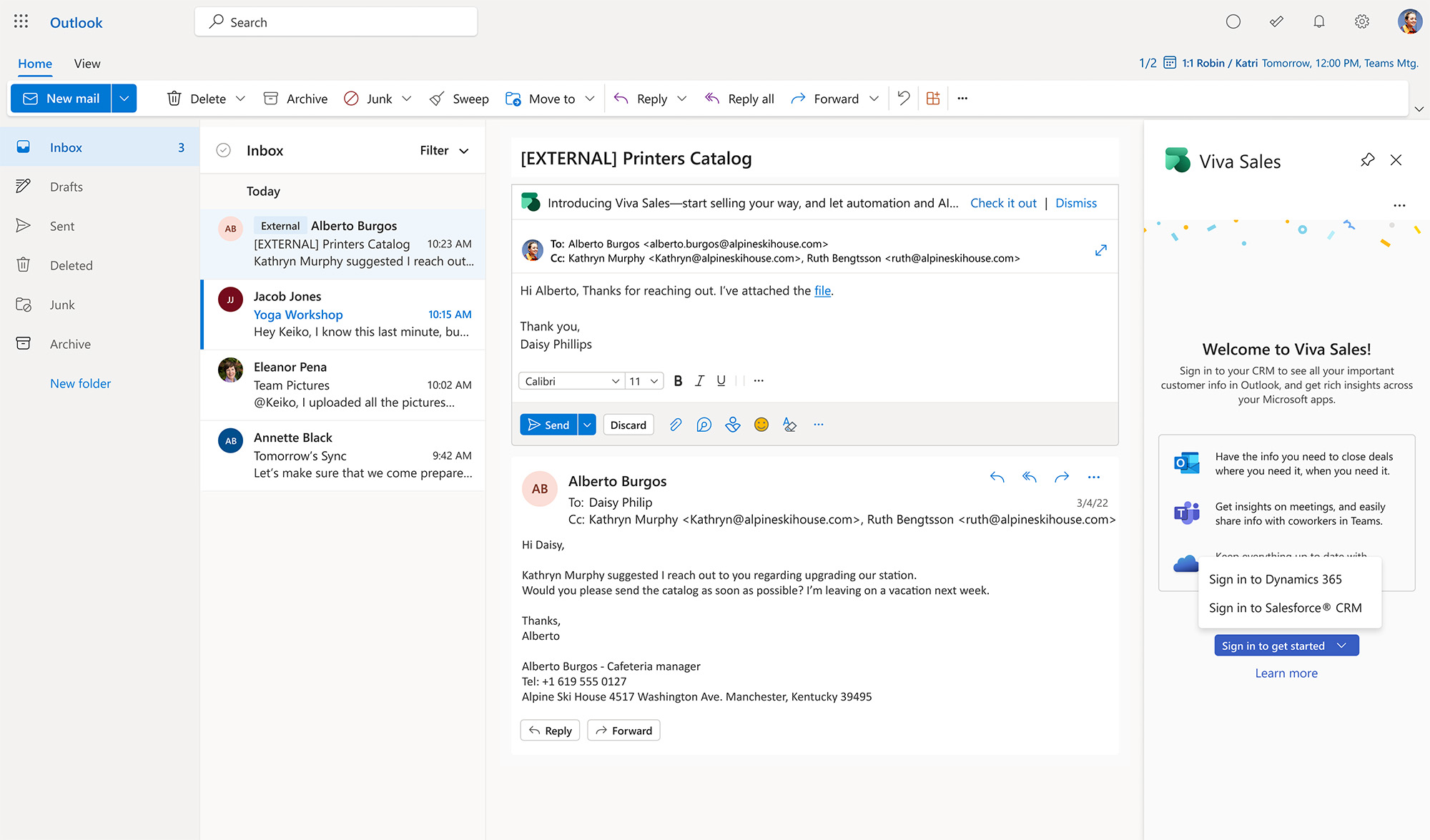 Copilot in Microsoft Dynamics 365 Customer Service
Copilot in Microsoft Dynamics 365 Customer Service—a range of next-generation AI capabilities that can expedite resolving customer issues and increase satisfaction scores. Copilot provides agents with 24/7 AI-powered assistance to help them find resources that will help resolve issues faster, handle cases more efficiently, and automate time-consuming tasks so agents can focus on delivering high-quality service to their customers.
With Copilot, agents can quickly craft a draft email or chat response to customers with a single click.
Copilot understands the context based on the current live conversation; identifies relevant information from trusted websites and internal documents, including knowledgebase articles and previously resolved cases; and crafts a response that the agent can review and send to the customer.
Using conversational chat experience, agents can ask Copilot to help diagnose more complex customer issues, discover resolutions, and summarize draft responses with the right tone to the customer—across all communication channels.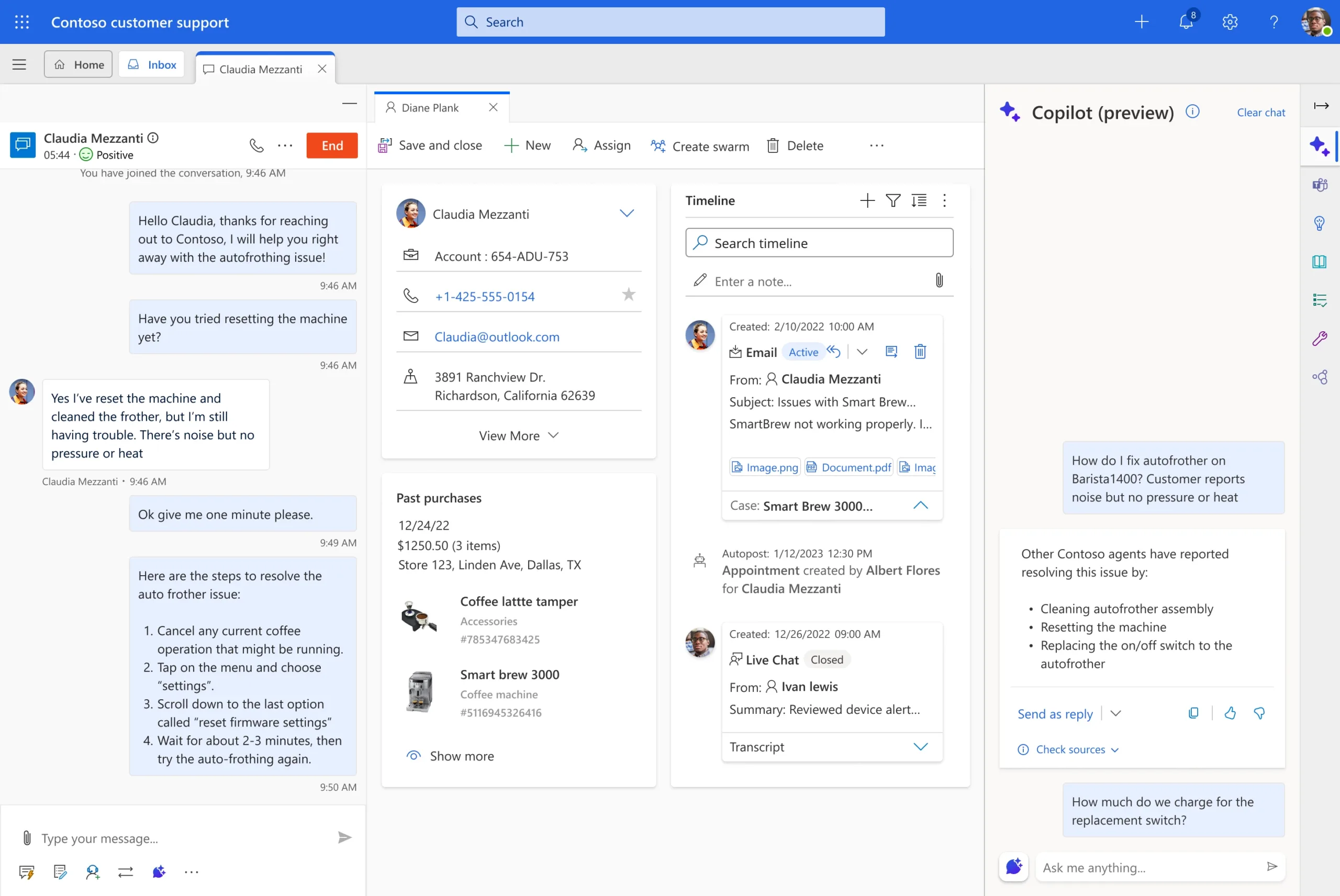 Copilot in Microsoft Dynamics 365 Customer Insights and Marketing
The next-generation AI empowers marketers to proactively target any audience segment in lockstep with market trends and customer demand.
Marketers have traditionally relied on data analysts, leveraging their skillset to write queries in SQL, to uncover insights from their customer data—which can take weeks for results. With Copilot in Dynamics 365 Customer Insights, marketing teams can engage directly with customer data.
With simple prompts, marketers can ask questions using natural language to explore, analyze, and understand customer segment sizes and preferences.
Email marketing is a powerful way to engage audiences if the email content is compelling and relevant. Content ideas, a Copilot feature in Dynamics 365 Marketing, inspire marketers by turning topics into suggested copy, helping them move from concept to completion faster.
The content ideas capability uses Azure OpenAI Service to generate a set of unique text suggestions as a starting point when composing marketing emails. It can analyze the companies existing emails and online sources, to increase the relevance of generated ideas.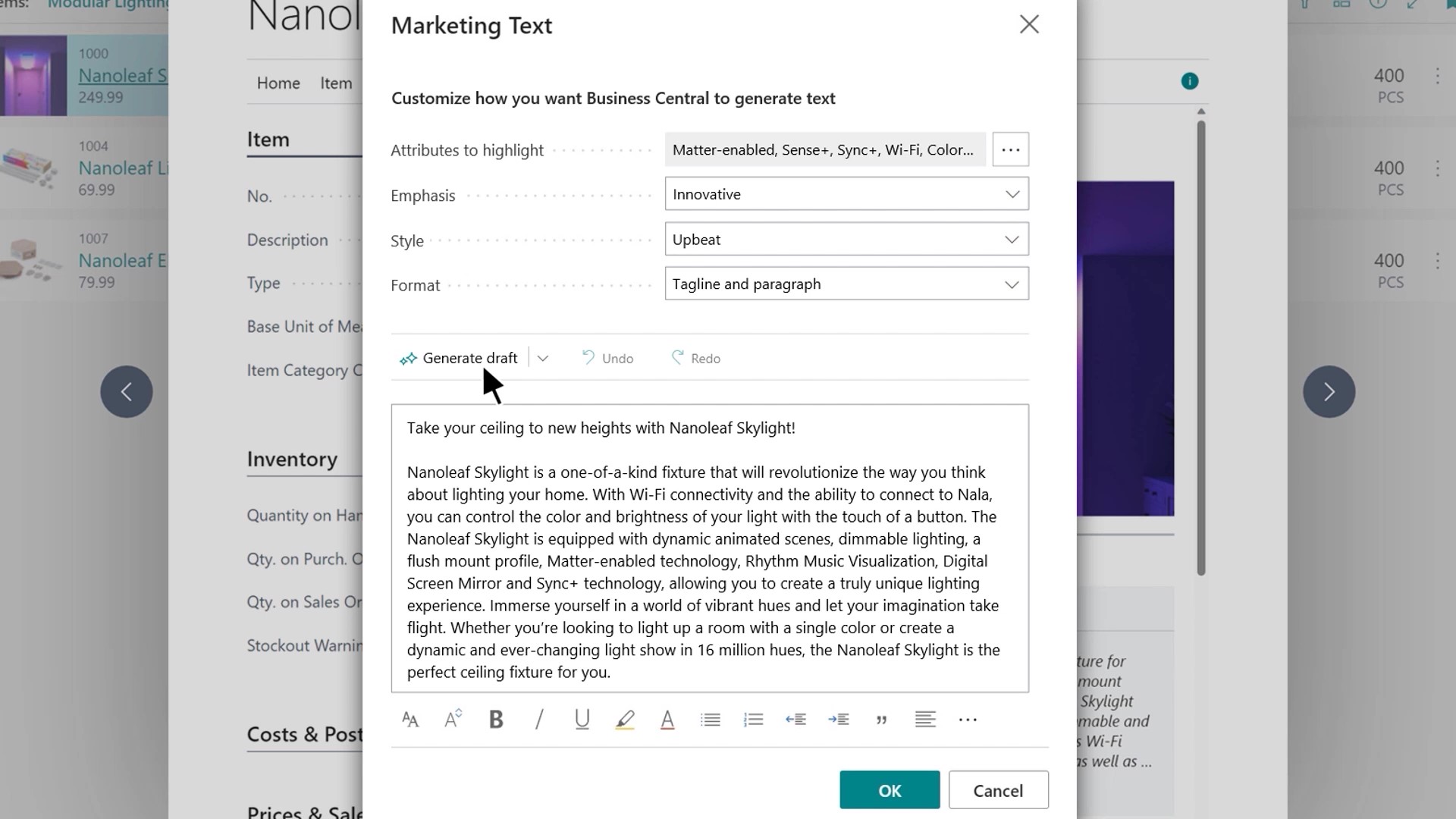 Copilot in Microsoft Supply Chain Center and Dynamics 365 Supply Chain Management
AI-enabled supply chain management can provide unprecedented visibility and insights, helping to solve disruptions before they happen.
The new Copilot capabilities for Microsoft Supply Chain Center, available to Dynamics 365 Supply Chain Management customers, to better predict and act on disruptions that occur across suppliers, weather, and geographies. Use intelligence from the news module to proactively flag external issues such as weather, financial, and geopolitical news that may impact key supply chain processes.
Copilot turns these insights into action with contextual email outreach to help solve problems in real-time.
With a custom and contextual reply, supply chain managers can save time and collaborate with impacted suppliers to quickly identify new ETAs and re-route purchase orders based on an identified disruption, like a weather event. They can also fulfill high-priority customer orders via an alternate distribution center to ensure they can meet customer demand in full and on time.