Episode Transcription

Ihor
Hello, my name is Ihor, I'm a project manager at OntargIT. Today we're talking with Ron Bear, who is the director of Archidata Services, the company in which OntargIT has implemented Microsoft Dynamics 365 Sales. Before we go into details about the project, Ron, could you briefly introduce yourself, tell a bit about Archidata Services and your role as a customer?
Ron
Archidata has been in the business in New York for 35 years now. We are very advanced in our technology, in our core business. But we were lagging a little bit behind on the peripheral software. We had a CRM that we felt did not provide us what we needed. So we were looking to implement the new CRM system. What we do in New York, we're an industrial architectural engineering construction (AEC) company. We provide services for this industry. And we constantly, in our core business, look for new technologies. So we are very strong in that area, but we needed help and support in the peripheral software
Ihor
I see, thank you. How did you come across OntargIT and what led you to choose us for the Microsoft Dynamics 365 Sales implementation?
Ron
First of all, I was looking in general, what kind of software to implement. The one that will be the best suited for what we are looking to do. There are many CRM companies out there. Then, we chose Microsoft because it's all in one umbrella. We really like how it's implemented with the rest of our software. So, I was looking for a partner on Microsoft's website called Microsoft Partner. There are differentiation between partners. I was looking for a Gold Partner. At that time, the war started and I thought this would be a great idea to help companies that probably are in distress in this situation. So I was looking to find a CRM implementer like you in Ukraine. This is how I found you.
Ihor
Great, thanks! So, it was one of the factors why you decided to work with us. How has the war impacted the quality of services provided by OntargIT? Were your expectations met, exceeded or not met? Can you share some examples related to aspects such as communication project management support, maybe some other aspects of our collaboration.
Ron
I personally didn't feel that OntargIT had any issues with the war. You guys, tried to answer any question or concern I have. And I didn't feel that the war had any effect on that. It was the same, so I thought you provided a good service. There were some weak points, which were a little bit here and there, some miscommunication between us. But we had a lot of meetings. We used Microsoft Teams, we talked and explained what we are looking for, how to implement that, what are the changes that we want to implement. So, overall, I didn't feel there were any issues at all.
Ihor
Nice to hear it, thank you! How has collaborating with OntargIT on the project and implemented solution affected your business?
Ron
It affected us tremendously! Because now we have the ability to be more organized, to understand who the customers are, how many projects we have with each customer. The way it's integrated with our email system. The way it's implemented with the other software that you combine for us. The processes that we had to do manually and you automated for us. It helps tremendously, because it saves us time. As a company, we are always looking for ways to improve our processes. We believe in lean processes which is the Toyota way, meaning that we are never satisfied with what we have. We're always looking for something to improve. We felt that it was a great Improvement and saved us a lot of time. Sometimes there was aggravation that we didn't understand, where things are and so on. It smooths our operation. Now we're even looking at what is the next step to improve what we currently have. Because, as I told you, we are never satisfied in terms of improvements.
Ihor
That's great news! we're really happy to hear that we helped you. Apart from technical and functional expertise has working with OntargIT provided any valuable business insights that have benefited Archidata Services?
Ron
In general, I didn't know so much in depth about the CRM. I knew the vision of where I wanted to go. But OntargIT definitely implemented what I wanted. You implemented my vision and we are able to move forward accordingly.
Ihor
Right, great! As a customer utilizing Microsoft Solutions, how do you envision the future of these technologies for businesses, what do you believe they bring and how can they continue to evolve and improve?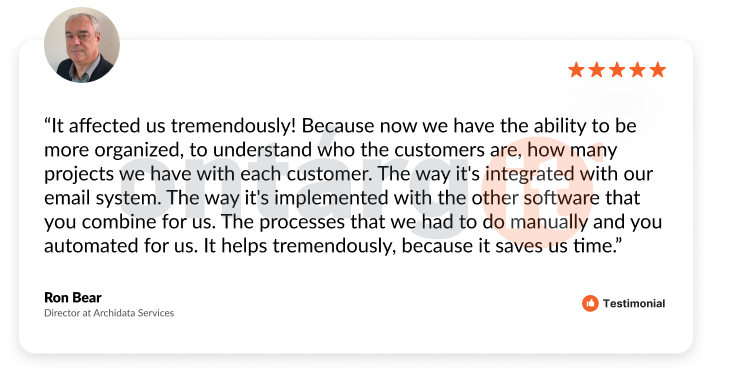 Ron
I think it probably has a lot to do with AI. Sometimes we are looking for ways to attract new customers. Probably some kind of AI implementation behind the scenes will automatically feed new information and reach out to new customers, or do all those processes that we currently do. For example, we set up telephone calls to customers. Maybe it will be automatically initiated repeatedly every two weeks or three months. So, I can see a lot of improvement that can happen in this area. Also, the implementation of other Microsoft products. I think Microsoft can improve integration of Microsoft Project and CRM. We have not decided to implement Microsoft Project within the field where it would take off. We didn't feel strong integration with CRM. So I believe if they Implement a little bit more, entwine those products like Microsoft Project, they will have their own strong integration. I hope that it will be a little bit easier, more entwined between them, so they can work much better.
Ihor
It's good that you share your feedback and your vision about the possible development of Microsoft products. Thank you for your vision. It was a big pleasure to talk with you. Thank you for the meeting!
Ron