Data's worth depends on its accessibility and application.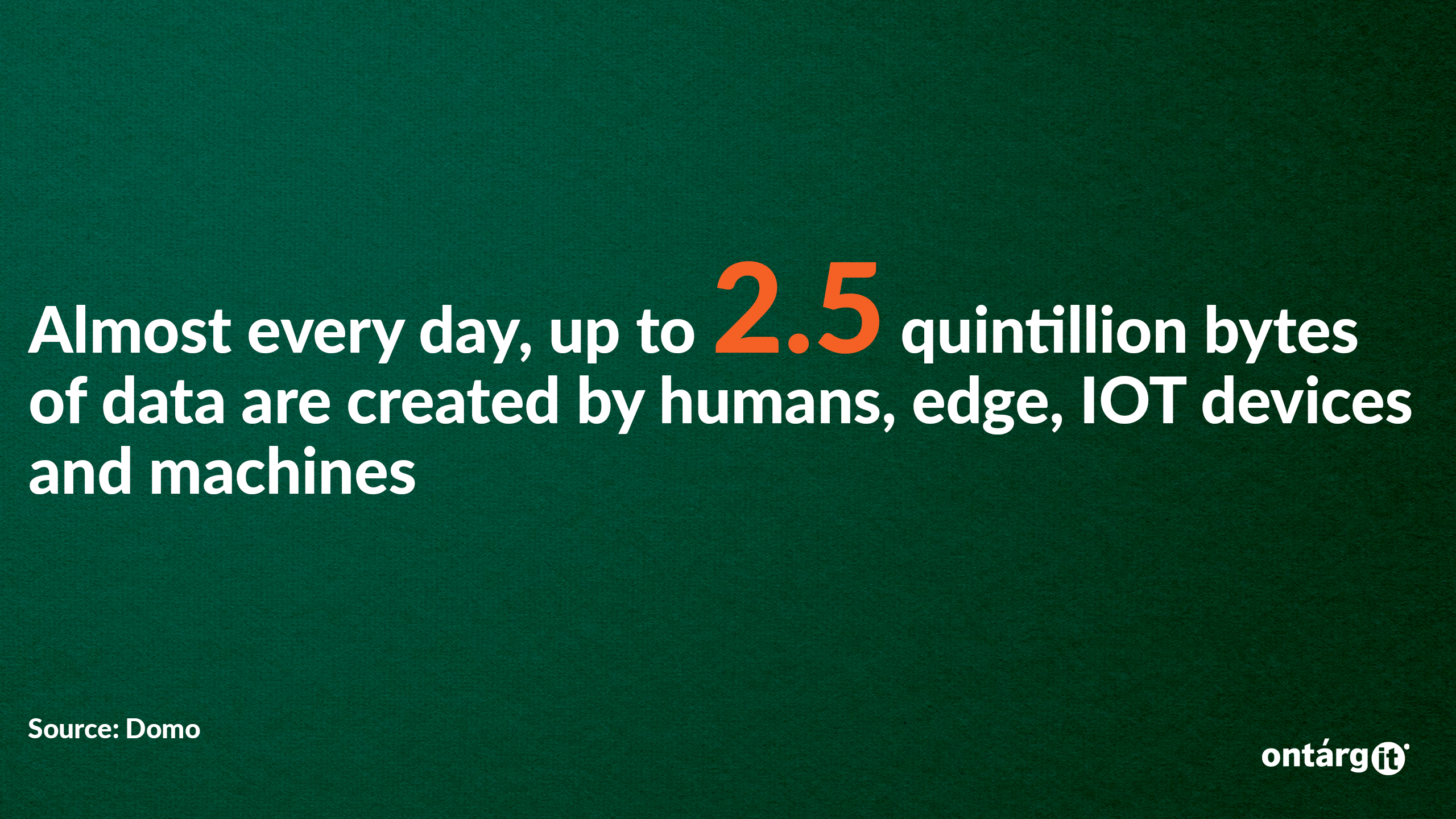 To make employees able to handle multisource data volume and variety, companies need a modern data foundation, which can be built anywhere, but it is best suited to reside on Cloud.
Data drives business outcomes by generating new and deeper insights that inspire innovation, smart decision making and more efficient operations. Companies can leverage their insights to understand customers more deeply, find new opportunities and transform the business accordingly to current market demands.
A modern data foundation has three core characteristics to make data accessible and trustworthy: modern data engineering, AI-assisted data governance and data democratization.
Modern Data Engineering
In a modern data foundation, data is acquired from different sources in different ways. Data engineers might develop reusable frameworks for data ingestion that support diversed data patterns. Cloud-based architectures and platforms enable the ability for data to come together in one place for the entire company and make it accessible at massive scale with low operation cost.
AI-Assisted Data Governance
Cloud-based AI gives you tools to automatically process and secure data in the Cloud with better quality and ethical handling.
Cloud-based AI and automation can help to control how data is collected and managed over its lifespan to support data ethics. Advanced cloud technologies make it easier to catalog data to organize it appropriately.
These advanced tools available on cloud should give you confidence in the quality and trustworthiness of your data.
Data Democratization
The latest cloud-based tools democratize data and empower more people across your enterprise to easily access and work with data relevant to their specific field of expertise much faster. Cloud not only makes data more accessible and trustworthy but presents it ready for analysis. You can combine different types of data and apply advanced technologies. With modern data foundation on Cloud, you can establish new ways to use data.
Before Cloud transformation, you must understand your further actions.
Three steps to transform data on Cloud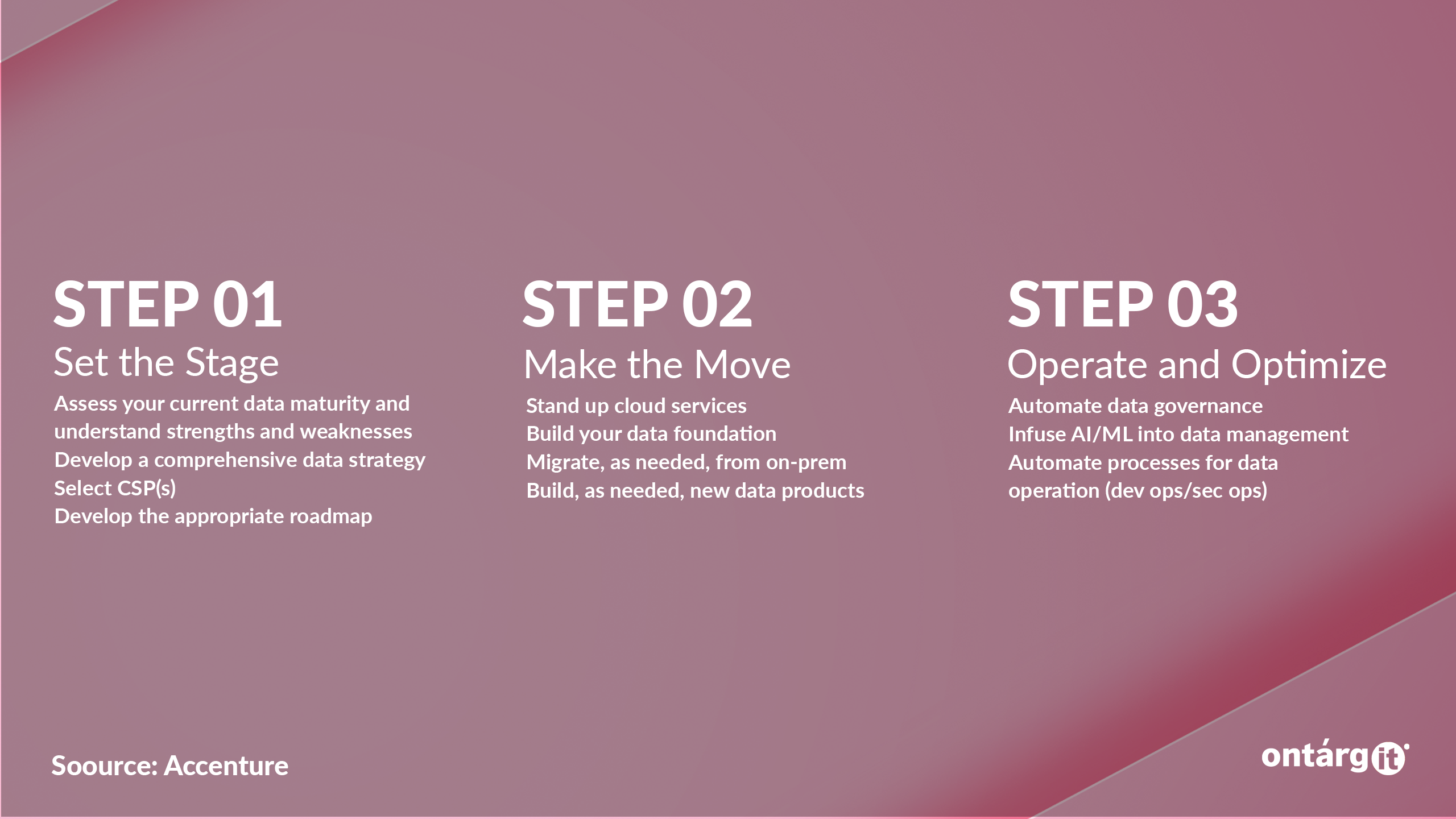 STEP 01: Set the stage
The first step in this journey is to evaluate your current data platform and its strengths and weaknesses. The gap(s) between this as-is assessment and the future desired state will help determine the key components for your new data strategy. There is no single data migration strategy that works for every organization, but the more successful migrations are those following a well-developed enterprise data strategy. This means simultaneously understanding the baseline characteristics needed by the data foundation to help deliver the targeted business outcomes while meeting necessary performance and security requirements. Not all data will have the same value in the cloud, so it's important to stratify and prioritize the portfolio in a way that realizes the most value from the migration as quickly as possible
STEP 02: Make the Move
Today, security and compliance risk are ever-present concerns. As a result, you need to be careful about what data you need, how you use it, access, encrypt, and storage for now and the future. With this in mind, security teams should be intimately involved in a migration from the very beginning. Once a thoroughly considered plan aligned to the business strategy is in place, it's time to execute the data migration. To help accelerate the secure transition to cloud with confidence and minimize disruption to business as usual requires leveraging your experienced providers, applying industrialized capabilities and addressing security from the start. Using organizational structures as dedicated migration factory, as well as migration tooling leveraging AI, will drive your automation journey all the way from source to your dreamed destination.
STEP 03: Operate and Optimize
Managing a modern cloud-based data foundation in inherently different than for traditional on-premise models. For example, standardization and automation become critical components. Continuous optimization is also necessary because constant change is one of the defining qualities of being in the cloud. For data to be used as valued capital across your enterprise, people must trust the data.
Microsoft Dynamics 365 is a leading Cloud solution with multiple options to innovate your business especially if you want your company to operate with speed, agility and scale, empower human ingenuity, enrich customer relationships, tap into new markets and compete effectively