More than 30 business managers, IT directors, heads of departments and business analysts participated in the seminar from industries such as pharmaceutical, electronic, textile and food retailers.
In his opening speech, Oleksiy Siver, Business Solutions Manager, Microsoft Ukraine, highlighted that retail is one of the most important areas of the Microsoft, which develops solutions that enable retailers to improve the efficiency of their businesses, optimize costs and accelerate return on investment. Oleksiy said that Microsoft Dynamics AX for Retail - is the only complete solution for retailers developed by Microsoft, which helps simplify the basic processes by providing the opportunity to focus on the relationship with the customers and increasing efficiency of employees' work across all sales channels. This solution provides a complete service when making purchases through the personal, optimized, differentiated approach.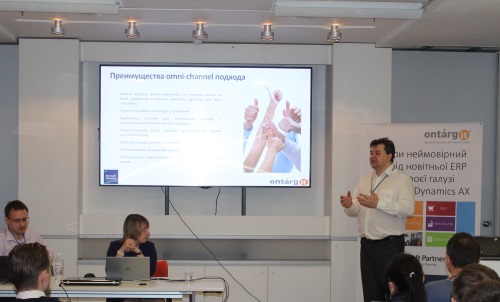 Furthermore, participants of the seminar with Oleksandr Kushnir, Manager OntargIT, appreciated the historical development of technologies in the retail sector and the emergence of a new type of buyer, dictating its demands and expect easy selection of goods and services in all possible channels of communication with retail suppliers. The importance of the retail business transformation was emphasized that in order to maximize profit from new opportunities to influence the behavior and the choice of the buyer.
Omni-Channel benefits were considered and the conditions of successful implementation of the approach in retail.
Components of Omni-Channel where discussed: online stores, mobile applications, trading terminals (self-service kiosks), analytical tools, customer relationship management (CRM), supply chain (SCM), warehouse (WMS), finance. Participates have reviewed global retail trend of transition from "best in class" retail specialized systems to "best integrated" solutions.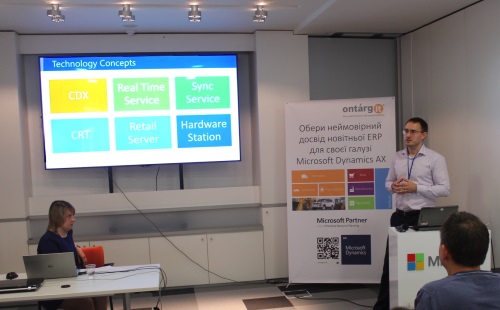 Oleksandr Kushnir introduced to participants ERP system Microsoft Dynamics AX, and its ability to ensure the success of retailers, ranging from inventory management, planning and procurement of goods, completing the organization works as an off-line and on-line stores.
Dmytro Potapchenko, Senior Consultant, OntargIT, expert in Microsoft Dynamics for Retail introduced the architecture and features of the Retail Modern POS. During his demonstration, guests appreciated the possible scenarios for the organization of work of retail outlets, combining into a single information space both online and classic stores, centralized management of the organization by all divisions of the company as a single integrated mechanism to provide the modern consumer is equally high-quality services when he so wishes and where he wants to get them.
Live demonstration of Retail Modern POS application was performed by Liudmyla Aleksieienko, Consultant, OntargIT. She demonstrated system based on working scenarios such as sales consultant in the trading floor, use of self-service kiosks, work of cashier and store manager, internet orders managers and mobile applications.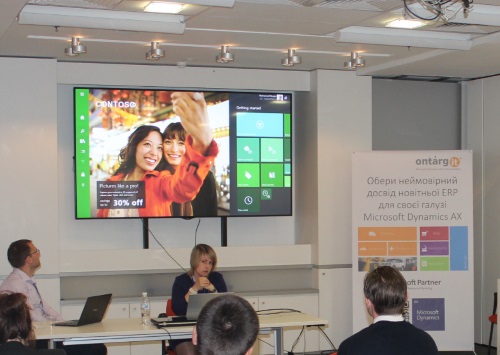 Scenarios of loyalty program management, working with discounts, automation of back-office operations were also introduced.
Much attention was paid to question and answer session, where OntargIT experts commented on important issues raised by representatives of Ukrainian retail market such as: working together to ensure disparate outlets, application developments and modernization of off-line trading technologies for transition to Omni-Channel procedures, specifics of logistics of order management, pricing, discounts and loyalty programs management.