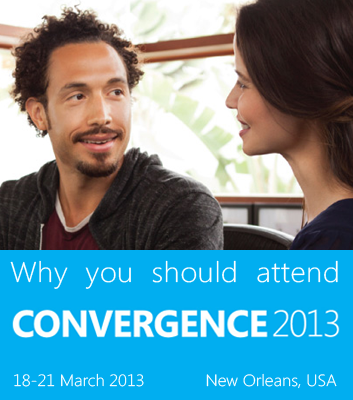 Convergence 2013, the biggest Microsoft Dynamics event of the year, is happening in New Orleans, March 18 to 21. Convergence 2013 is where opportunity and innovation meet to deliver real business value. It's the chance to make key business connections and to discover the full potential of Microsoft Dynamics solutions.
Convergence 2013 is also a good opportunity to connect with other businesses in the industry. Customers, along with their Microsoft partners, come to Convergence from all corners of the globe to experience all that the event has to offer. Loaded with a wealth of informative sessions and other creative ways to learn, customers discover how to extend the power of their solution across all areas of their business. They also get a first look at new product releases and hear about future plans for their software.
At Convergence, explore and experience the benefits of Microsoft Dynamics AX 2012 while learning how to get more value from Microsoft Dynamics AX 2009. Learn about the Microsoft Dynamics AX 2012 enhanced industry and core enterprise resource planning (ERP) functional capabilities, including retail management, distribution, manufacturing, professional services, and public sector. Whether you are an existing customer looking to upgrade or a prospective customer considering Microsoft Dynamics AX 2012, you will walk away from Convergence with what you need to help your organization move forward and get more from your ERP investment. Connect and share best practices with customers, partners, industry experts, and the Microsoft Dynamics AX product team.
You'll also learn about:
Upgrade value, best practices, and resources.
Industry-specific enhancements and vertical solutions.
Microsoft Office integration.
Cloud services your organization can take advantage of today.
Building more collaborative supply chains with Enterprise Portal.
Flexible, easy-to-use collaboration and workflow tools.
Core ERP and business intelligence enhancements.
Support for distributed organizations with multiple sites.
Deep technical sessions on the new model-driven architecture.
Building solutions using the integrated development environment.
Here are four great business reasons why Convergence is a good investment
While at Convergence, you will:
1.Learn how to get the most from our Microsoft Dynamics solution.
Attend a variety of sessions covering topics specific to our solution and technology objectives.
Share the knowledge I learn at the event with colleagues across our business to maximize the functionality we already own.
Investigate additional Microsoft Dynamics features, plus third-party vendor solutions that could help our business be more successful.
2.Network and collaborate with peers and Microsoft product experts.
See firsthand how others have optimized their solutions to drive business success.
Consult with our solution provider and Microsoft product experts.
Get free technical support from those who know the product best.
3.Experience the latest innovations, new products, and technologies.
Take advantage of hands-on labs featuring the latest Microsoft Dynamics products.
Learn how our solution integrates with these new technologies to maximize efficiency.
4.Get insight into the Microsoft corporate direction, and understand future plans for our Microsoft Dynamics solution.
Understand the product development strategy, so we can plan ahead on how to maintain and deploy our solution over time.
Learn about future growth plans and investments for Microsoft, so we can take full advantage of these benefits.
Here's an approximate breakdown of conference costs:
1. Registration:
Early registration (Nov. 13, 2012 - Jan. 25, 2013): US$ 1495
Standard registration (after Jan. 25, 2013): US $1795
2. Airfare: Round-trip costs vary depending on flights booked. Visit the Bing Travel site to get specific airfare costs from your area.
3. Hotel (4 nights at US$212): US$848 (average cost of Convergence).
4. Miscellaneous (estimated cost of meals, entertainment, and activities not covered by your Microsoft partner): US$400
Total (airfare & early-registration discount): US$2743.
We hope you'll agree that this event is a small investment that can deliver big returns for our business.
You can learn more about Convergence 2013 New Orleans at the Convergence 2013 website.